If you are looking for a delicious beanless chili recipe you've come to the right place!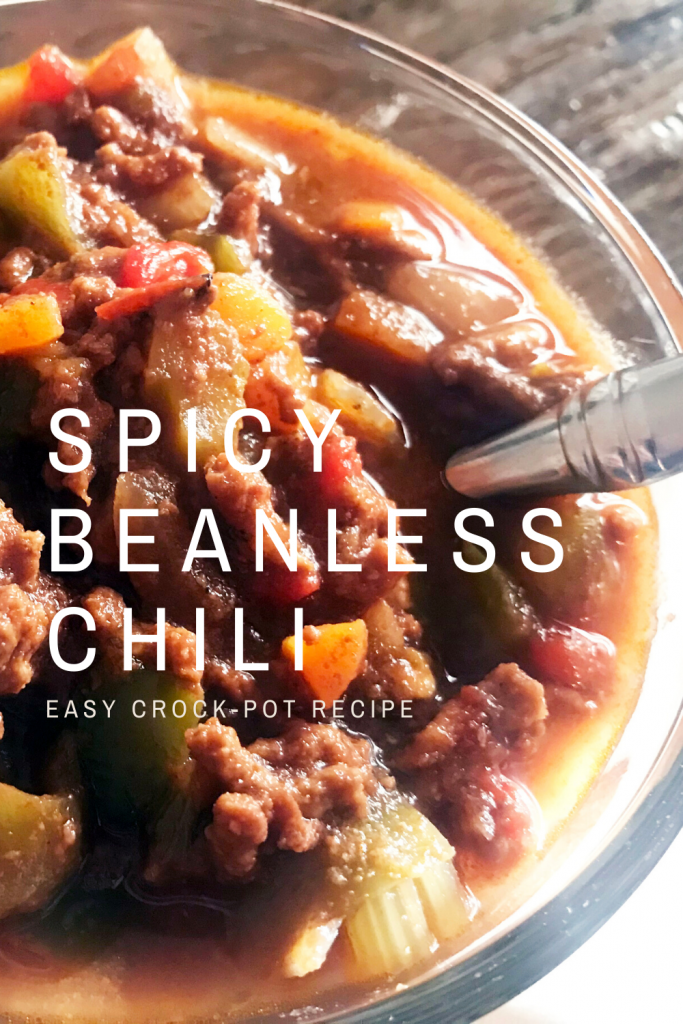 My husband asked me to make some beanless chili and I could never find a recipe we both could agree on so I decided to make up my own using ingredients we had on hand and was inspired by the flavor profile of traditional Cincinnati style chili. Cincinnati chili has two magic ingredients… chocolate and cinnamon.
This recipe is a tad bit spicy, thanks to the Trader Joe's sriracha, but it is not overwhelming. Hot is not your thing? Just leave this ingredient out or reduce the amount used.
What I like about this beanless chili recipe is that you can prep all of the ingredients and chuck them in the Crock-Pot for about 12-16 hours. YUM! If you prefer a meatless version, I suggest replacing the ground beef with one head of fresh cauliflower that has been chopped. Don't have a Crock-Pot or can't wait forever for it to cook? I've included a stove top version below.
View this post on Instagram
I hope you enjoy this hearty dish. It's fantastic as a standalone meal with some crackers but it can also be served over pasta, mixed in with mac & cheese, used to make chili cheese fries, or nachos. Enjoy!
SPICY BEANLESS CHILI
Ingredients:
2lbs ground beef
4 med onions
1 1/2 cup chopped celery
1 cup chopped carrots
2 12 fl. oz. jars of chopped roasted red peppers (juice included!)
2 green bell peppers (deseeded and chopped)
1 28 oz. can of crushed tomatoes
1 28 oz can water (use the crushed tomato can for this!)
1 tbsp oregano
1 1/4 tsp chili powder
1/2 tsp salt
1/4 tsp pepper
1/2 tsp cinnamon
2 squares baking chocolate
2 tbsp powdered cocoa
3-4 tbsp sriracha
Crockpot Directions:
prep all ingredients and add to large crock pot
cook on high for 5-6 hours, reduce heat
cook on low-med for an additional 5-6 hours
draw off any liquid and set liquid aside to be used in other recipes (this is great to cook chicken in later and adds TONS of flavor)
serve! Our favorite way to enjoy this beanless chili? Chili Cheese Fries!
View this post on Instagram
Stove top Directions (quick cook) :
measure all dry ingredients and set aside
in large sauce pan add ground beef and cook over low-med heat until browned (approx 1 hour)
in a separate large sauce pan add onions, celery, carrots, roasted red peppers (and juice), green peppers, crushed tomatoes and water – cook over medium heat, stirring occasionally for approximately 1 hour
drain ground beef and add to large sauce pan that contains veggies
add all dry ingredients including baking chocolate and stir well
cook over low medium heat for at least 4 hours. Be sure to stir every 1/2 hour to 45 minutes
draw off any liquid and set liquid aside to be used in other recipes (this is great to cook chicken in later and adds TONS of flavor)
serve!
Regardless of how you choose to cook this beanless chili, I hope you'll make it part of your weekly meal prep. There are so many ways to enjoy this recipe and it's really a time saver when you want a quick hearty meal.
View this post on Instagram
Be sure to follow me on Instagram and tag me when you make this recipe. I'd love to hear what you think!
If you find my recipes, DIYs, or tutorials helpful, you can now buy me a coffee and help me keep my website AD FREE!