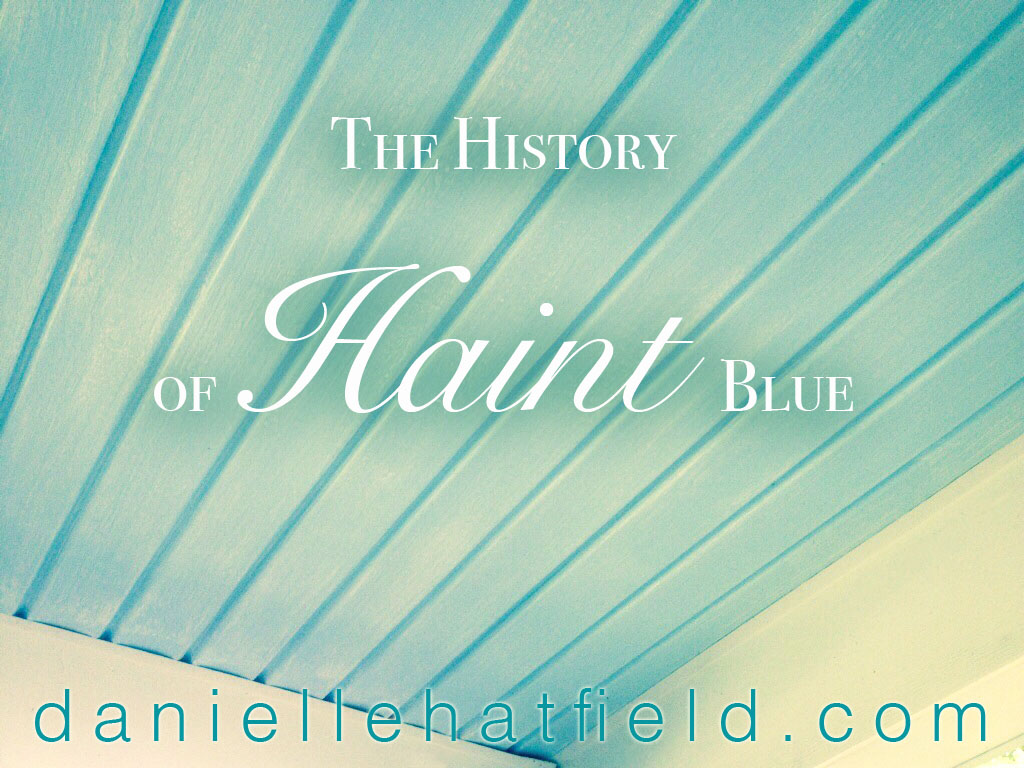 If you've ever driven deep into Lowcountry – where the spanish moss practically drips off trees and sweet tea on the front porch is a past time, then you've probably seen a porch ceiling that was painted blue. Haint Blue.
What's a haint you ask? Well . . . A haint is more widely known in the Lowcountry as a haunt, lost soul or ghost, but the colloquialism (derived from the noun haunt) is rarely used anymore unless you are talking about a paint color. It is believed by the Geechee/Gulla culture that by painting a porch ceiling blue it will protect a home from haints (evil spirits). Blue symbolizes water and spirits are unable to cross it to haunt you – thus the name 'haint blue'.
I've always heard that it helps keep bees and wasps away too, and after doing a little research I found that at one time this may have been true. . . haint blue paint was originally made by mixing dye from the indigo plant [recipe to make your own indigo dye here!] and lime with milk and maybe a little Borax. This mixture is said to have kept bugs from making a home on your porch and also a meal of you.
If you love the idea of painting more than just your your porch with milk paint, be sure to check out Miss Mustard Seed. She recently came out with a paint line that is fabulous! I am loving Eulalie's Sky. Such a great haint blue that would look amazing on an old dresser, accent wall or reclaimed fence head board. 
Is there ONE color that is haint blue?
No. It's more of a color range. Now, some folks may argue that there IS a color called haint blue. The Dirt Doctor shares that "The Savannah Historical Society reproduced and authorized the use two haint blue paints in 1980. Haint Blue Light is almost a mint green. Haint Blue Dark is a mid tone teal. Haint blue is probably more of a culturally iconic hue that falls in the light blue to blue-green range rather than an actual, specific color. Here are some color chips that will give you an idea." [Read More] – I'm with Howard. I think it's more of a color range than one specific color.
Working on a tight budget? Don't worry! If you are patient and willing to do a little hunting you don't have to pay a fortune. . . I found my 'haint blue' on the miss mixed paint isle at Lowes Home Improvement a couple of years ago for 50 cents. It's Valspar Bluebell and I buy a can (at full price) every other year.
Regardless of which color you choose – to me, having a haint blue porch ceiling reminds me of those sticky summer afternoons spent trying to catch a breeze on the front porch swing with an ice cold Red Rock Cola.
Do you have a haint blue porch?