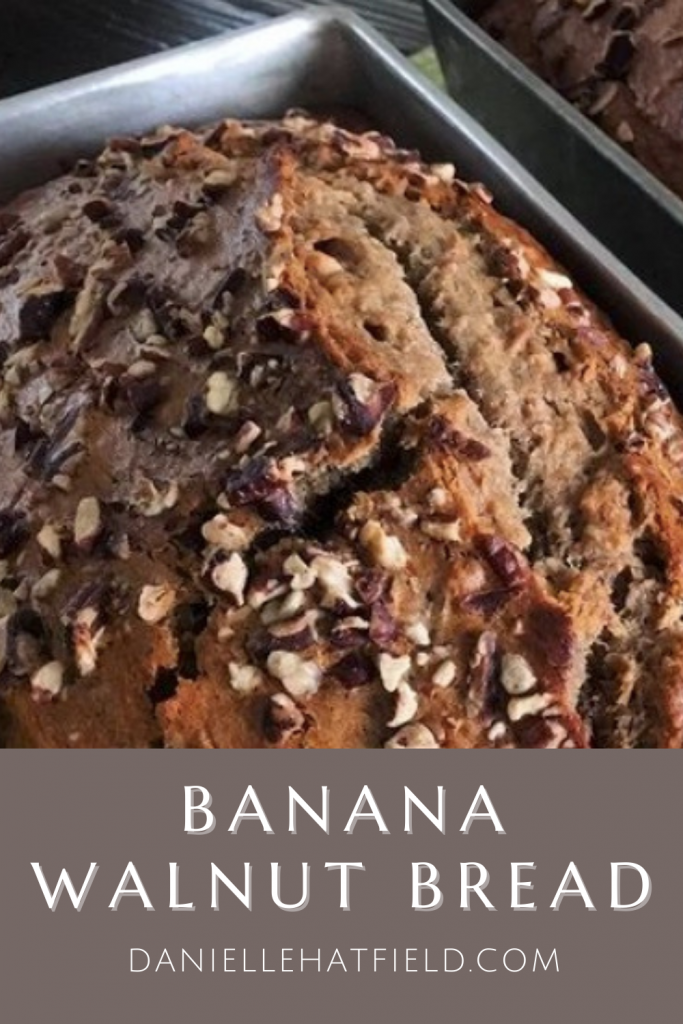 This recipe makes 1 large loaf, 2 small loaves, or 24 muffins
preheat your oven to 350 degrees and cook for 50 minutes
Ingredients:
4 eggs
1 stick softened unsalted butter
1 TBSP vanilla extract
1/2 cup brown sugar
4 ripe bananas
1 tsp salt
2 tsp baking soda
1 1/2 cup walnuts (or pecans) separate walnuts into 1/2 cup and 1 cup
2 cups flour
Instructions:
– preheat oven to 350 degrees
– grease baking pans with butter
– thoroughly mix together 4 eggs, butter, vanilla extract, brown sugar, bananas, salt and baking soda. (I suggest using a potato masher)
– sift in flour and mix thoroughly
– break apart and mix in 1 cup of walnuts
– mix batter thoroughly
– add mix to baking pans and sprinkle with remaining 1/2 cup of walnuts
– bake for 50 minutes at 350 degrees for bread, and 20-25 minutes at 350 degrees for muffins
– check doneness of bread by sticking center with toothpick – if it comes out clean YAY! you're done. If it doesn't – cook bread for 5 – 10 minutes more.
I hope you enjoy this banana nut bread recipe as much as we do!
View this post on Instagram