While discussing the pros and cons of patterned/colorful dinnerware and the perils of food photography on Facebook the other day, my friend and freelance writer & multimedia journalist Davina van Buren shared a photo of a china set she adored. That photo also happened to have a tasty looking dessert that I absolutely had to know about.
Davina shared that it was a creation of a friend that consisted of a Krispy Kreme original glazed doughnut, topped with vanilla ice cream, Baileys Original Irish Cream, and Hershey's Chocolate Syrup. Sounds decadent doesn't it?
I was instantly inspired to create a martini version of this recipe because well, why the hell not?!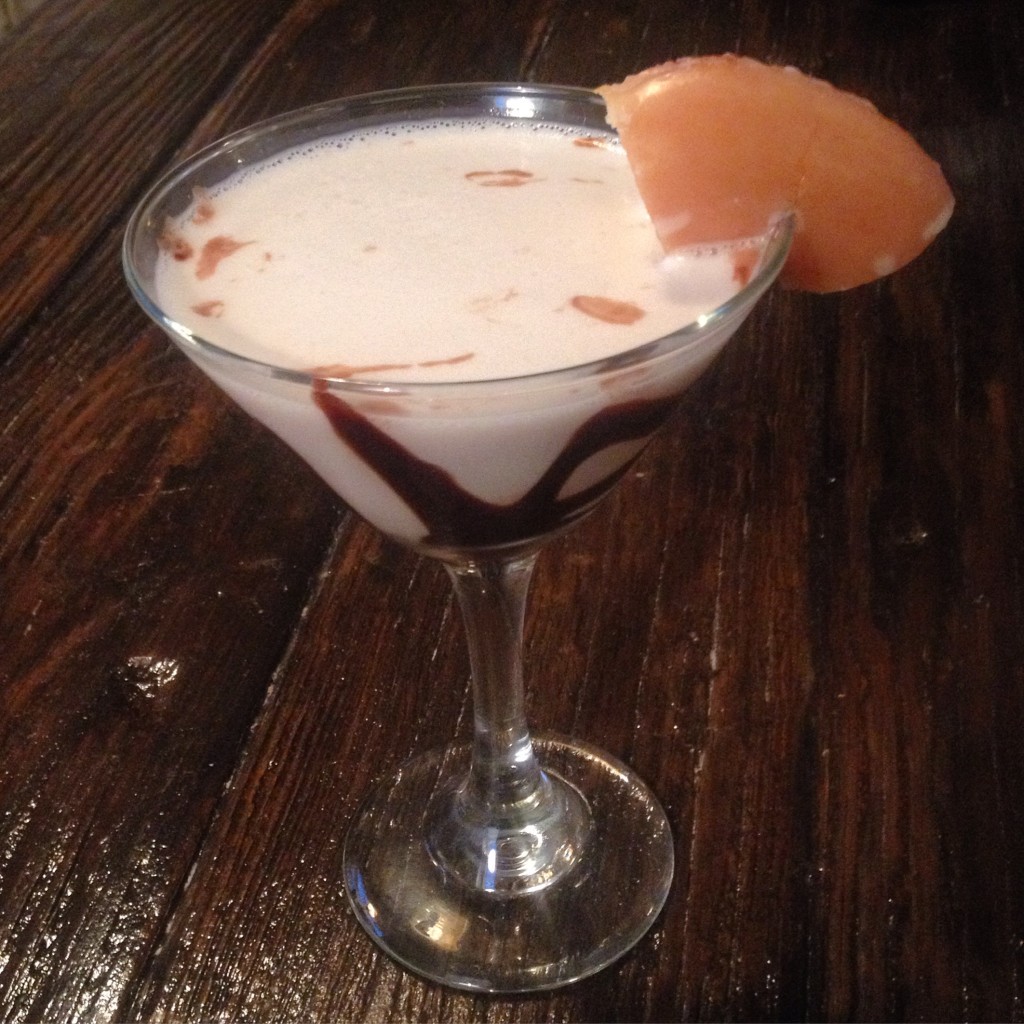 I ended up making my own Irish Cream thanks to this simple recipe from Stef over at Cupcake Project, and my own vanilla simple syrup (1 c water, 3 TBSP vanilla extract, 1/3 c sugar). The whole process of trying to recreate this dessert as a martini was a fun way to welcome the weekend. If you make the Irish Cream yourself, know that for this recipe I made the Irish Cream using Evan Williams Kentucky bourbon whiskey instead of Irish Whiskey.
I will add this word of warning before you begin… this is a very sweet treat (in either form) and should be consumed responsibly. Also, the doughnut is there for you to sop up all of that delicious chocolate when you are finished with your cocktail.
I do hope you enjoy it. Please let me know what you think. I'd love to hear from you!

Recipe: Krispy Kreme Delight Martini
This is a sweet treat inspired by a friend and featuring Krispy Kreme, Evan Williams, Irish cream and Hershey's Chocolate Syrup
Author:
Danielle Hatfield
Ingredients
1 oz. Evan Williams Green Label, 80 proof
1 oz. Irish Cream Liqueur
2 oz. half and half
½ oz. vanilla simple syrup
Hershey's Chocolate Syrup
Krispy Kreme original glazed doughnut (quartered)
Instructions
Drizzle chilled Hershey's Chocolate Syrup into chilled 6 oz. martini glass.
In shaker, mix all liquids and shake vigorously until VERY cold.
Add contents of shaker gently to martini glass being careful not to disturb chocolate in glass.
Take whole Krispy Kreme original glazed doughnut and cut into quarters.
Take one-quarter of doughnut and carefully cut a small notch on inside then place on rim of glass.
ENJOY!