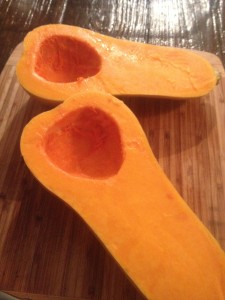 This soup is brothy, flavorful and easy to digest. If you want to make it a bit "meatier" bake two butternut squash instead of one.
Before making the soup, you'll want to cook your squash first. If you're new to butternut squash be sure to be very careful when cutting these bad boys in half. Trust me.
With a sharp knife carefully cut your butternut squash in half, clean out (and save) seeds, then place both halves face down in a baking dish with 1/2 water and 1 tbsp of olive oil or butter. Bake at 350 for 45min – hour. Remove butternut squash from dish to cool and reserve water from the baking dish.
I hope you enjoy this recipe. Let me know what you think of it!

Recipe: Brothy Butternut Squash Soup
Author:
Danielle Hatfield
Ingredients
1 butternut squash (4 cups cooked)
1 bulb garlic
1 medium onion
2 TBSP olive oil
1 TBSP thyme
1 TBSP clover honey
1 TBSP Better Than Bouillon vegetarian based broth
1 tsp salt
½ tsp pepper
6 cups water
Instructions
Preheat oven to 350 degrees
Cut butternut squash in half
Clean out and save seeds
Place both halves face down in baking dish with splash of olive oil and ½ cup water
Bake for 45 minutes to 1 hour
Remove squash from baking dish and let cool, reserve water/oil mixture
Dice onion and garlic
While squash cools, sautee onion, garlic, thyme, salt and pepper over medium high heat until translucent.
Remove onion/garlic from heat and let cool in separate dish
In same soup pan, fill with 2 cups water, reserved squash baking water, and add 1 TBSP Better Than Bouillon vegetarian based broth
Scoop out cooled squash (should be about 4 cups)
In a blender or food processor blend squash, onion/garlic mixture and 4 cups water (I had to do this half at a time) until smooth
Once blended add back to soup pan and stir.
Bring the entire mixture back to medium/high heat for a few minutes then reduce to simmer.
Serve in your favorite mug!