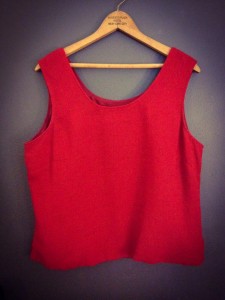 I have jokingly called this my #frankenfashion project. Why? Well, partly because when I made my first cut to this dress it was during a thunderstorm and I happened to have some seriously crazy hair that night. It's not a very lady like hashtag – but who cares.
For all of you master seamstresses out there – I've never cut a dress in half to make separates before. I have taken in, let out or donated – but never cut up clothing like this.
What gave me the courage to do this you ask? Well, last year when I was one of four bloggers who were invited to attended Triad Goodwill's Rock the Runway Fashion Show, I was SO inspired by all of the responsible refashioning! It was refreshing to see what those talented designers came up with from the racks of our Triad area Goodwills. Now, I am no Nhi Tran but she and the other designers from 2014 have inspired me to reconsider how I look at the clothes in my closet. If I can sew a chair cover, blanket or curtains, I can certainly refashion my own clothes. Right? RIGHT?
I felt like this plain jane dress was the perfect starting point for me. Nothing too intimidating. With no zippers or buttons to contend with, I decided to work on the top half first. It was easy to make a simple pullover top with side splits(?) that can go from business meeting to date night with a little help from a belt, vintage purse and sexy shoes. I decided to hand stitch the lining and the fabric but I may pull out the sewing machine to add a nice edge to the bottom that matches the seams about the arms. I'm still debating on that part.
So that's it. Part one complete. *yay*
Please offer up your suggestions on what I could do with the bottom half.
– keep it a skirt?
– add a different top to it and sew them both together?
– make a beach bag?
– another shirt?
I need your help! I've looked all over Pinterest and haven't found much on refashioning a dress that has been cut in half. (I have found plenty of DIYs for mens shirts and t-shirts . . . sadly it doesn't help me here.)
Take a look at my progress and leave any links to pins or suggestions below! (sorry for the potato quality on some of these images!)