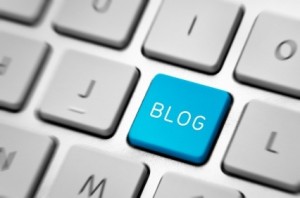 Over the years I have learned so much about the importance of having a plan when it comes to blog content. Learning How to Develop a Content Strategy for Your Professional Blog goes a bit deeper than just clicking 'publish' whenever you want to sell or promote something.
When it comes to nurturing and creating great content – it takes time to thoughtfully create, promote, and share. Don't get discouraged if you don't get the response you had hoped for or if you need a little inspiration to spark the post. Readership will grow through your planning, goals, consistent efforts, continual education and willingness to course correct.
One of the biggest questions you need to ask yourself is "Why do people come to my website/blog and am I consistently providing the content they are looking for?" Another great question is "Am I focused on developing content dedicated to the primary and secondary keywords used to discover my industry/areas of interest/hobbies?"  Answer these and you will have a better insight on where you need to begin.
These 7 tips are from a few of the folks that I learn from every day. I sure hope that they help you reconsider how you are approaching your blog content.
Do you have a tip you'd like to share? Leave a comment below and let me know what/who has helped you.
7 Tips to Develop Great Blog Content
1. "Once you have your editorial calendar created, you'll find that creating more content is easier because you know just what's coming up next." – Peg Fitzpatrick
The fab Peg Fitzpatrick delivers on this tip with : How to Get Organized with an Editorial Calendar 
How to Get Organized with an Editorial Calendar – it's Easier than you Think! – http://t.co/TwUxtFFrME #blogtips pic.twitter.com/TaYIQ20CvH

— Peg Fitzpatrick (@PegFitzpatrick) February 14, 2014

2. "In today's world, you simply MUST craft a descriptive, accurate, catchy and "tweet-able" headline." – Mark Schaefer
You could have the most amazing blog post in the world but if you have a crappy title chances are – no one will read it. I think you'll enjoy this insight from Mark: This is why I am not reading or tweeting your blog post 
3. "You see, the challenge is to create not just good content but great content that ranks well in search engines, engages your audience, and increases your pageviews." – John Saddington
I came across this series by  John Saddington a while back and had to add a link. I encourage you to bookmark it and enjoy reading a growing list (45 so far!) full of more blogging tips that will keep you motivated and educated: Developing Great Blog Content That's Read and Ranked
4. "As you brainstorm and write blog posts, try incorporating a mix of the following content types into your editorial strategy. Then take note about what your audience responds to and tailor your posts accordingly."  – Shelly Kramer
If you are ready to give up on your blog I highly recommend reading this post by Shelly. It might just be the kick in your blogging bloomers that you need to find your motivation again: 5 Types of Blog Content That Drive Engagement
5. "Each piece of content should have a purpose, if it doesn't, why are you spending time working on it?" – Phil Buckley
Leave it to Phil to keep you on your toes. He asks a very valid question in Why Are You Publishing That Content? that most of us need to ask ourselves before pressing publish.
6. ". . . the real question is no longer about just producing content—it's about writing stuff that truly teaches, inspires, and answers consumer questions." – Marcus Sheridan
Marcus is a force of nature. If you have ever had the opportunity to see him in person you know what I mean by force of nature. His meteoric rise to be featured in the NYTimes was fueled by his passion to do one simple thing . . . answer his customers' questions. His post 7 Content Ideas that Will Blow Up Your Brand and Business in 12 Months or Less—Guaranteed, is one I think you'll enjoy reading. Another one is this interview by John Bonini : Writing to Save Your Business: Blogging Tips from Marcus Sheridan
7. "One popular misconception that I think a lot of bloggers have is that once a post has been published and promoted, it can never be promoted again." – Diana Adams
Diana is a powerhouse when it comes to blog posts. This blog post over at Bit Rebels : Blog Content: Bring Your Old & New Posts To Life [Infographic] will have you looking through your archives to promote a few older posts that are still relevant to your readers that you may have over looked. . . and who knows, you may find some inspiration to write a few new ones. :)