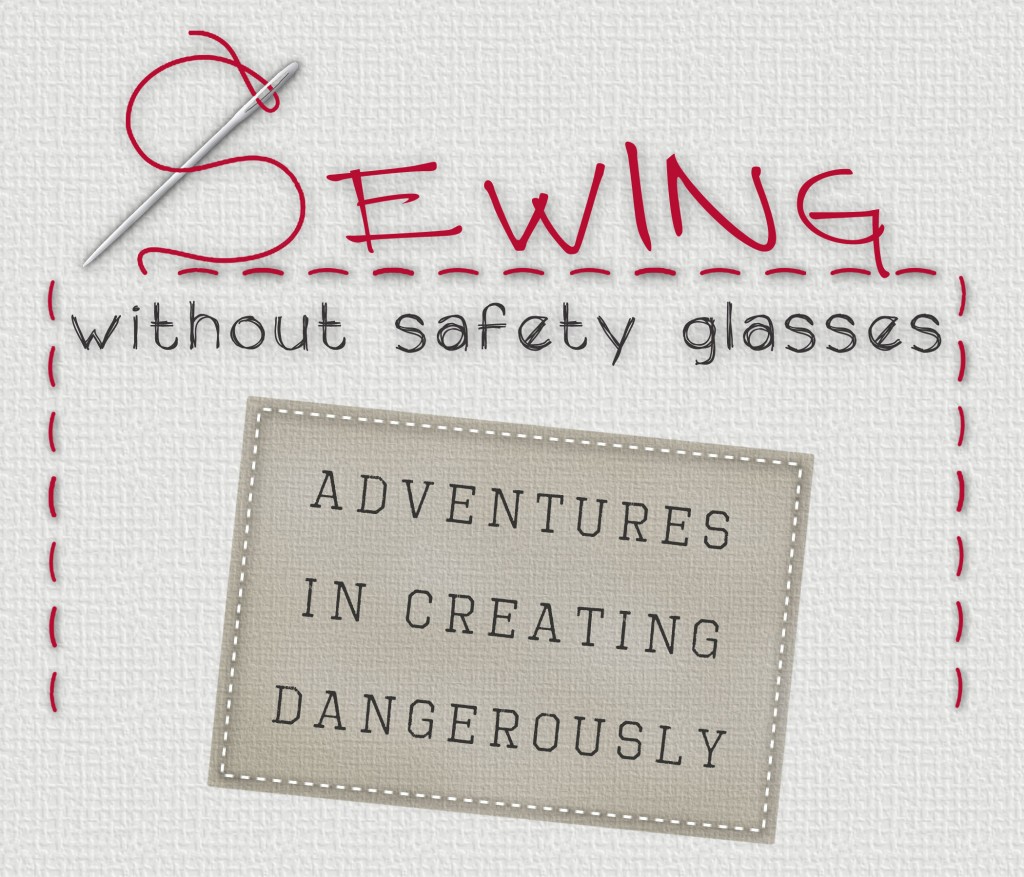 I remember my first BIG sewing project in Home Economics. . . a piece of clothing. Now, up until that point, I was fine with sewing quilts, pillows and other straight line projects that didn't require me to venture too far out of my comfort zone . . . but clothing?! I was mortified.
My mother assured me that there was nothing to fear and that with practice, I would eventually be able to sew without a pattern and even make my own patterns for clothes, quilts, furniture. . . I could literally have the world on a string!
Learning how to sew my first shirt proved more challenging than I anticipated. . . I just knew that unless I wore safety glasses, the needle would break off in the fabric and blind me as I attempted my first buttonhole. My irrational fear was a symptom of my anxiety of trying something new.
I cried when I couldn't quite get my seams quite right. It was disappointing that my shirt didn't have the same polish and perfect seams as the ones in the department stores. Embarrassed to wear my shirt because of the quality of clothing I was comparing it to, I was not able to see my own accomplishments and understand that my sewing skills could improve with commitment and practice.
All of my disappointment and embarrassment melted away when I wore my shirt at a family gathering. My Grandmother hugged me and told me how proud she was of what I had created.  Later that night I sat next to her as she inspected my sewing. With her head tilted back, she began looking at my button holes, cuffs and collar and offering tips on how I could improve.  As she held my shirt in her lap, Grandma shared how she had taught my mother to sew. It wasn't easy at first, but over time, sewing had became second nature.  My Mother's seams became straighter, patterns were easier to create and alter. The level of difficulty in a given project not only increased my Mother's knowledge and confidence in her own sewing skills but opened up a world of possibility as she decorated her home.
Sewing has been one of the skills I am most proud of. I have made curtains, dresses, skirts, aprons, slip covers, pillows and quilts. . . more importantly I have taken off my "safety glasses" both in life and in sewing.
With each project I am reminded of my first attempt at that shirt. . . and how far I have come because I didn't give up. Each of us can feel inadequate if we constantly compare ourselves to others and neglect creating our own goals and making the time to celebrate personal milestones. There is also valuable perspective and insight we can gain from mentors who are willing to help us become better at what we do.
Sewing, like many things that can enrich our lives both personally and professionally,  is a skill that improves with time. We learn from patterns others have created at first – but the real freedom of success comes when we have the skill to create our own.
What was your first sewing project?