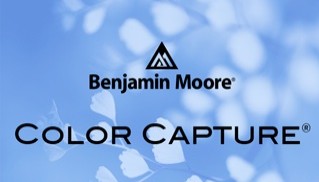 When it comes to color inspiration I am always on the look out for ways to capture it. Usually, I simply took a quick photo and came back to it when I had the time to look through paint chips. But trying to match a paint color to a photo I took on my smart phone was next to impossible. . . not to mention maddening.
Over the last year I have to say that one of my favorite apps for my DIY and Design projects is by @Benjamin Moore.
Color Capture allows you to take a photograph, and using your touch screen of your iPhone or Android, instantly find a match from more than 3,300 paint colors. No joke.

Instantly there is a paint match in two forms – strip or color harmony. Double tap to add the color you choose to your combos and you are all set to create your own color story! Best part about the app is that you can locate your favorite Benjamin Moore retailer. A helpful detail when traveling, working on location or if you are the new kid in town.
This app can be an indispensable tool for interior designers, DIYers and yes, even web designers.
I used it recently to find color inspiration for our master bedroom from a new set of sheets my husband picked out. . . now the tough part is going to be deciding which color to choose!
—
What colorful photographs have inspired you to transform your home?