Cloverleaf Dinner Rolls are a tasty addition to any dinner table. I love pulling them apart while they are still warm and dipping them in homemade honey butter or sausage gravy. SO GOOD. I'd also recommend enjoying them with my hearty recipe for Swedish Sailors Stew or a Crispy Onion Wedge Salad With Creamy Roasted Heirloom Tomato Dressing.
If sweet rolls are not your thing don't fret! You can make Cloverleaf Dinner Rolls with a variety of bread recipes and even reduce the sugar in this recipe. You can also add an egg or butter wash before baking or leave them plain. I encourage you to have fun exploring all of the possibilities.
Enjoy the recipe and be sure to tag me on Instagram when you bake them. I'd love to hear what you think!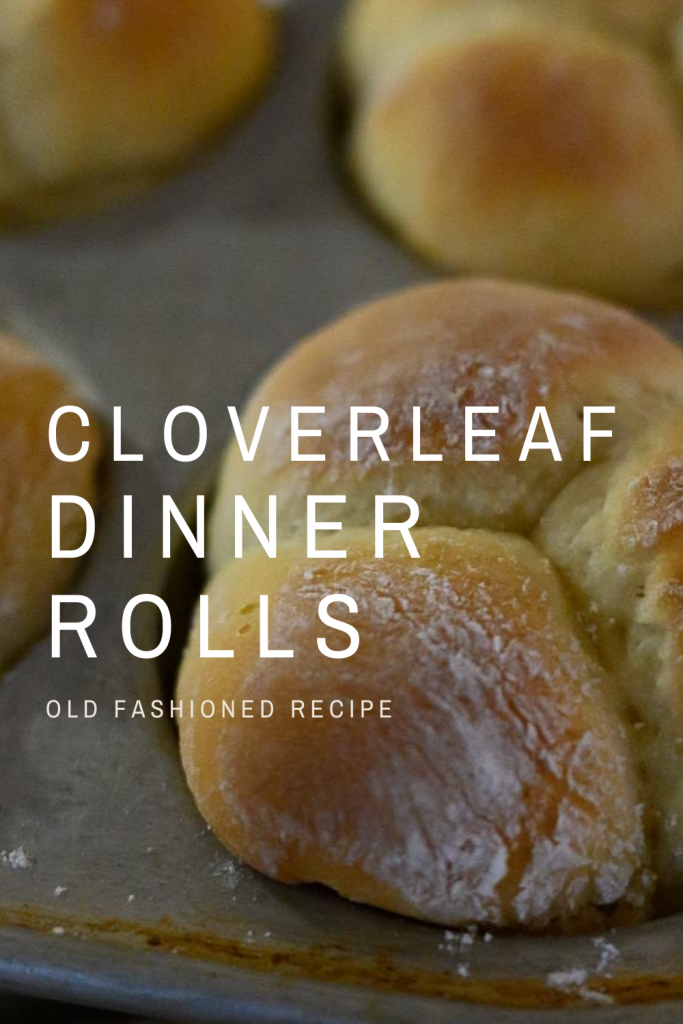 Ingredients
1 1/2 tsp active dry yeast
1/4 cup (4 tbsp) water (between 105 and 110°F)
1 cup milk
1/4 cup (4 tbsp) sugar
1/4 cup (4 tbsp) Crisco (vegetable shortening)
1 tsp salt
1 egg
3 1/3 cups all purpose flour
Directions
add yeast, 1 tbsp of sugar, and water into dish and set aside to proof (learn more about proofing yeast here)
in sauce pan combine milk, remaining 3tbsp of sugar, Crisco, and salt and cook over medium heat until just bubbling (NOT boiling)
in a mixing bowl whisk the egg then slowly mix in yeast mixture, and milk mixture.
slowly sift in and mix flour 1 cup at a time until you have a smooth dough
place dough into a greased bowl and turn over to grease all sides – cover and let rise for about 2 hours
grease muffin tin (I like to use vintage 12 cup tins)
punch down dough and place on well floured surface
section dough into 36 balls and place 3 balls in each cup
cover with a towel and let rise again for approximately 1 hour
preheat oven to 400°F
bake for 13-15 minutes or until golden brown
*If you are looking for a gluten free option to this recipe you can make your own oat flour by blending whole rolled oats in a blender and adding 2 1/2 tsp of baking powder per cup of oat flour in order to help it rise. ALSO you will need to increase the flour by 42 percent (more on that here). You can also use Bob's Red Mill Gluten Free 1-to-1 Baking Flour. (no, this is NOT a sponsored post)
Happy Baking!
View this post on Instagram