Those of you who know me, know that I love experimenting with recipes. From cocktails, candies, and bread, to hand pies and soups, I am always looking for fresh ingredients and curious combinations.
Recently I had the pleasure of learning a few new recipes from Hendrick's Gin Central & Southern U.S. Brand Ambassador (and Winston-Salem resident) Fred Parent who was on hand to introduce a group of us to some #curiousconcoctions and guide us through experimenting with this most unusual gin. The Cocktail Academy, at The Public in Greensboro, North Carolina, was an event organized to give us a taste of just how easy it is to create the perfect porch sippers and punch for our next potluck.
Not a gin fan you say? Well, I beg you to hold your judgment until you taste one of these refreshing cocktail recipes compliments of Hendrick's Gin. You may become one of the cucumbernauts yet!
For those of you unfamiliar with Hendrick's Gin, I encourage you to read this interview with Hendrick's Gin's Master Distiller, Lesley Gracie on GinFoundry.com to get a better feel of why I think this premium gin should be in your glass at home or abroad. Ms. Gracie distills gin in minuscule batches of 500 litres to give her greater control of flavor as she blends yarrow, elderflower, juniper, orange peel, angelica root, caraway, coriander, chamomile, cubeb berry, orris root, and lemon to make the magic that is Hendrick's Gin. What makes this gin so unique is the fact that "Hendrick's is the marriage of two different spirits from two rare and unusual stills: the Bennet still and the Carter-Head still."
You see, much like Ms. Lesley Gracie's family, who survived her endeavors in the curious world of botanical concoctions from a young age, my friends and family must survive mine. Though I am not a Master Distiller like Ms. Lesley Gracie – I honor her spirit of adventure when it comes to enjoying the process of investigation and creation of recipes. I found that Fred parent shares that same sense of adventure!
It was fantastic to meet and chat with Fred who led a room of us through three recipes. From Cucumber Lemonade and Sumptuous Seasonal Lemonade to Properly Peculiar Punch, Fred's enthusiasm for libations stirred us in a way that we all were able to see past our hesitation and dive into muddling and mixing with curious courage . I don't think I could convey his passion for it better than the folks at Hendrick's:
"An elixir enthusiast by day and night, Fred Parent's wealth of knowledge in unusual cocktails and experiences serves him to be a most superb ambassador for Hendrick's Gin. Having worked as a bartender and beverage director all over New York City, his infatuation with mixology led him to create "Mixed Neat," a company that curated unique mobile events focusing on ingredients, exquisite cocktails and a memorable one of a kind experience. While developing this business, Fred became a pillar in the growing cocktail scene in Harlem, one of New York's most up-and-coming and exciting neighborhoods. As his reputation grew within the cocktail community, so did his repertoire and experience, and William Grant & Sons took notice, appointing Fred Associate Ambassador for Hendrick's Gin in New York in 2014."
So, whether you are entertaining friends or simply sitting on your back porch, sipping one of these cocktails will be a refreshing and delightful treat. (and you may even want to grow your own cucumbers!)
A friendly reminder that #WorldCucumberDay is June 14th and Hendrick's encourages you to share images of your cucumber plants and curious cocktails using the #HendricksGin hashtag.
From the tasting table:
I had the pleasure of meeting Mike and Jill, a husband and wife team who love exploring and tasting their way through our great Old North State. Along the way, this dynamic duo helps support locally owned businesses like Fresh Local Good food group.
Jill and Mike loved the experience of making their own libations and we chatted about how much fun it would be to mix more unusual concoctions at home. Though Mike, a self-professed bourbon man, was unsure at first – the curiously delicious ways we could enjoy Hendrick's hit a high note with the Ancho Reyes Chile Liqueur infused Properly Peculiar Punch. I hope you'll enjoy exploring the Treasury of Tipples you can create with Hendrick's Gin.
Takeaway:
I came away from this event wanting to host my own Hendrick's Hootenanny. (yes, I've already started reaching out and making plans) In an ideal world, I'd stroll through my local farmers market with Fred to guide me toward the best ingredients for his favorite Hendrick's recipes… *Stay Tuned* for more experimental cocktails coming from my kitchen!
——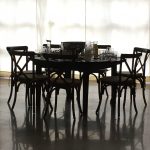 If you live in the Triad and are looking for a private space to host your next event you will love The Public, a "uniquely warm, inviting, and industrial private event space" that can accommodate up to 245 guests.
It is part of the Morehead Foundry multiplex, owned and operated by Fresh Local Good food group, and is located at 433 Spring Garden Street.
We were all invited to HUSH, a speakeasy located in the back of Baker and the Bean, but that is a blog post for another day!