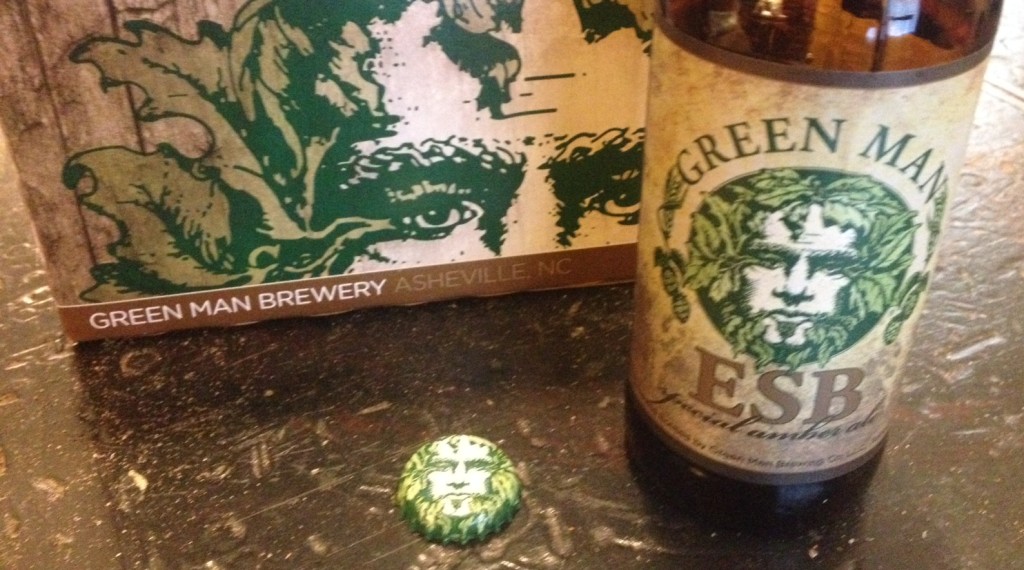 In the spirit of #NCBeerMonth I asked my husband (not a beer drinker, he's a bourbon man) to pick me up some NC beer from Bestway Grocery while he was out picking up lunch this past week. "But I'm not a beer person! Are you sure you want me to pick it out for you?" "YES!" I told him. I wanted to see what he would pick out and I was truly excited about trying a NC beer I've never had before. Besides, I'm determined to work on my list of '12 ways to celebrate NC beer month year round' and trying and sharing the best beers from my home state is one of the perks!
What my dear husband brought home was a 6 pack of Green Man Brewing's flagship ESB special amber ale. . . and wow! Though Green Man has been brewing in Asheville since 1997, this is the first time I have ever tasted it and it won't be the last. The ESB is described as "A malty amber ale boasting rich toasted and caramel flavors, Green Man ESB is one of our award-winning signature brews. Our blend of authentic British malts and hops creates a nutty aroma, full body, and a sweet finish. Prepare yourself for a truly exceptional interpretation of a traditional English style."
I was surprised to learn that as one of North Carolina's oldest breweries, Green Man has been producing some of the North Carolina craft beer scene's most iconic ales with a fierce loyalty to traditional English styles. It was also a pleasant discovery (but no surprise) that Green Man Brewing is committed to looking for ways to be green not only with their new expansion but in their current facility as well.
Love day trips? Though Green Man is no longer a brew pub, I cannot wait until their 'Ale Garden', overlooking the beautiful Blue Ridge Mountains, is completed in the late summer of 2015. Also on my list? Going on a Brewery Tour and visiting their Tap Room that is adjacent to the brewery. Patrons can see where the magic happens so if you are ever in Asheville, put them on your must visit list. It will be worth the drive to support a legendary North Carolina Brewery and explore Asheville.
This is one beer I will definitely be using to make our next batch of Swedish Sailors Stew.
Cheers to you and to the Brew Crew at Green Man for helping put NC on the map for legendary beer!