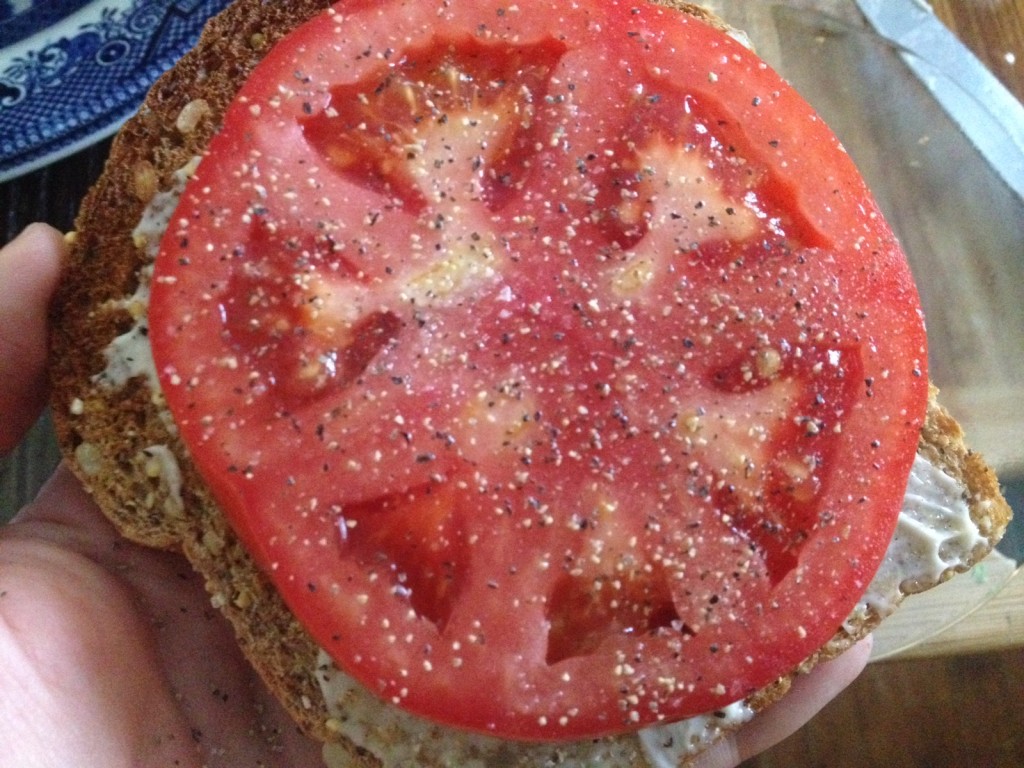 I am addicted to tomato sandwiches. . . especially ones made with roadside tomatoes from local farmers. It takes me back to summers in South Carolina and the farmers that lined the roads toward the beach that were selling fresh veggies from the back of their trucks. Lucky for me, my husband came across a couple selling tomatoes and brought a bag home for me.
Most of y'all know that I'm also a BIG fan of good bread. Though my husband is an amazing baker, I love when he brings home a fresh loaf from our local Greensboro Great Harvest. If you aren't familiar with the name, Great Harvest has been a staple since 1976, providing fresh baked, whole grain breads (search for your local Great Harvest bakery here). They also make their own whole-grain flour . . . and yes, you can taste it in every loaf. If you haven't read up on the story of the founders of Great Harvest, Pete and Laura, take a minute to learn about them before heading into the kitchen. You may appreciate the humble beginnings of this national brand. If you're interested and impressed by their commitment to community and quality baked bread, then explore bakery ownership with them!
Normally I would want to make the mayonnaise myself (this recipe from Alton Brown is easy and yummy!) but alas, I was hungry and those tomatoes just wouldn't wait.
I hope that this simple summer recipe will soon become your favorite. Enjoy this sandwich with a glass of sweet tea on your back porch – shoes not required.
Ingredients:
Great Harvest Dakota bread (Sunflower, pumpkin, and sesame seeds are generously kneaded into their honey whole wheat dough for a crunchy, hearty, and flavourful bread.)
1 large roadside tomato
1 tablespoon blue cheese*
2 teaspoons mayonaise*
salt and pepper
sugar
Tools:
cutting board
knife
small mixing bowl
fork
cookie sheet
Directions:
preheat oven to 400
slice tomato into 1/2″ thick slices and add salt and pepper to taste
in small mixing bowl mix mayonnaise and blue cheese throughly using a fork
place slices of bread on cookie sheet and bake for 5-7 min on each side until browned
let toasted bread cool a bit
spread blue cheese mayonnaise on one side of two bread slices
add tomato and use a pinch of sugar
add lettuce, onion, bacon etc. if you prefer (I recommend trying this at least once with just the tomato and blue cheese)
*this mayonnaise and blue cheese mixture will make you many sandwiches. Mix it up and store it in an airtight container.