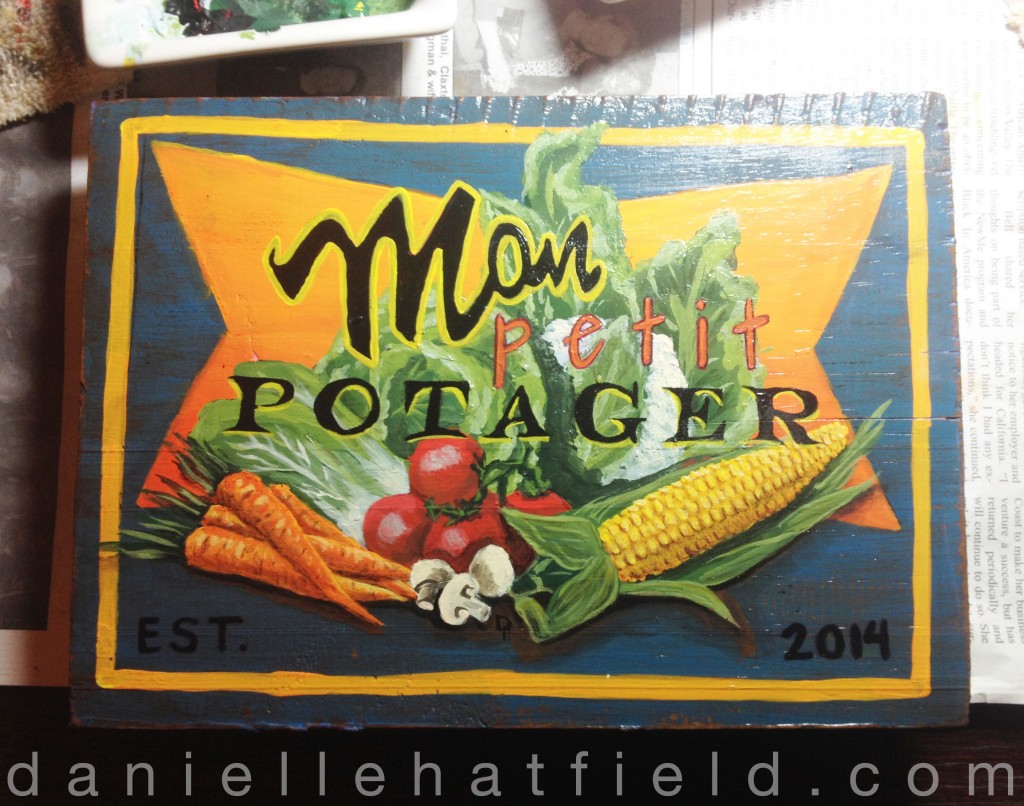 Since spring I've been spending as much time as I can outside reclaiming and shaping our back yard and transforming a small space under our kitchen window into the kitchen garden of my dreams . . . potager in French translates to 'garden providing vegetables for the pot'.
If you've never heard of potager gardens, take a look at this article from the folks at Organic Gardening that will not only get you up to speed on what you can and should plant, but hopefully it will inspire you to grow your own kitchen goodies, regardless of whether you are in a house or apartment.
Why did I paint this sign? Well, with all of the rain we've had over the last week, cabin fever finally took over and I decided to design and paint myself a little garden sign. I am such a sucker  for old signs that I wanted one to greet me each time I went to tend my very own little potager. I really blame 4 days of looking for art inspiration on Pinterest and watching episodes of Drew Pritchard's show Salvage Hunters (Season 1 is up on Netflix instant watch and I *highly* recommend it).
Default Gallery Type Template
This is the default gallery type template, located in:
/home/daniellehatfield/public_html/wp-content/plugins/nextgen-gallery/products/photocrati_nextgen/modules/nextgen_gallery_display/templates/index.php.
If you're seeing this, it's because the gallery type you selected has not provided a template of it's own.
Now I want to get something out of the way . . .  I detest a DIY blog post that doesn't show you how to actually do anything. So forgive me if this isn't as detailed or helpful as it should be. I used what I had on hand and did not spend one dime on making this. *yay* thrifty me.
If you're interested in the template please leave a comment and let me know. I'll be happy to add it and a list of paint colors I used for those of you who would rather not design one of your own.
Tools:
paint brushes
acrylic paint
water
sealer
hammer
nails
carbon paper
pen (I used Le Pen in brown)
wood glue
Directions:
prep your wood (I used wood from an old wine crate) by lightly sanding and removing any nails/staples
apply one coat with Danube Blue from Sherman Williams (or any color you'd prefer) and let dry
lightly sand so that some wood shows through
mix a small mount of brown acrylic paint (I used  Deco Art's Americana

 Acrylics

 Burnt Umber) and water
apply one coat of the watery brown mixture and wipe with an old rag (your sign should look a little aged at this point)
Take a break to watch and episode or two of Salvage Hunters and let this completely dry before moving on to the next phase.
using template, center on board with carbon paper underneath and trace basic outlines of your design. (don't worry about details yet!)
paint the border line and shape first and let dry completely before moving on to the painting vegetables (I use a hair dryer to speed the drying up)
using template, center on board with carbon paper underneath and trace basic shapes of vegetables
paint vegetables and let dry. (this is were you are likely to spend most of your time)
using template, center on board with carbon paper underneath and trace basic outlines of your lettering
paint lettering and let dry completely, outlining 'petit' with Le Pen or Sharpie
protect with a sealer and let dry completely (if you have outlined any lettering, be careful as it tends to smudge – a Sharpie may be better)
use scrap 1 x 2 that has one end cut into a point and glue/nail to the back of your sign.
put your finished sign in your garden!
Resources you may find helpful:
About the design:
I used Photoshop to design 'Mon Petit Potager' sign so that it would fit my piece of wood.  (9.25″ x 6.75″) Using image sites like iStock Photo, Shutterstock, Fotosearch, Vector Stock, and Deposit Photos I selected the garden vegetables I wanted to include in my sign and created a template. I used my template  and some carbon paper to  transfer basic outlines and lettering. It's been years since I've painted anything – so this helped me a whole lot!
Though I'm done with this little project, I'm still torn about the lettering. My husband says it's difficult to read and yet I like it. . . . I told him I wasn't worried whether or not the birds or rabbits could read. ;)
I encourage you to get creative and design one of your own. When you do, be sure and share a link – I'd love to see it!