It happens to all of us.
We check our email only to find that a hoard of people we barely know have signed us up for their email newsletter, openly copied us along with all of their contacts to promote their website/event/product or gave/sold our emails to businesses looking for "free press" at their next event or trade show.
Let's get one thing straight. . . just because you have a person's email address, doesn't give you the right to abuse it.

— danielle hatfield (@dhatfield) September 10, 2013
Email Newsletter etiquette seems to be a big challenge for most people.
If you think that signing up all the people in your address book for your newsletters is a good idea. . . . WRONG! You are doing more damage than good. (at least that's my opinion)
I don't get the warm fuzzies about any company, person or brand as I spend time unsubscribing (for those who actually have that option) from their newsletters. I may come off sounding like a bitch to some when I defend my right to not be bombarded with thinly veiled sales pitches, but dammit. . . it's MY inbox! This sign up tactic reminds me of the cold call telemarketers that would interrupt dinner. Remember those?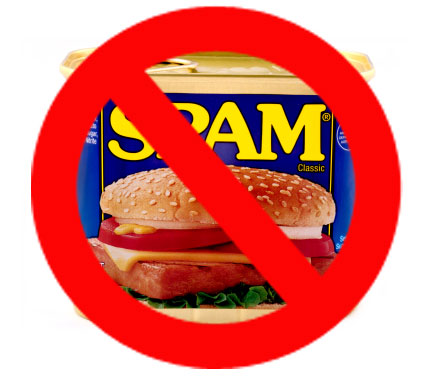 You want to have meaningful interactions with me? Talk to me online, send me a note, pick up the phone or send me an email that isn't part of a canned pitch. Have a new newsletter that you want to share? Let me know personally and ASK me if I want to be signed up for it.
To quote Scott Stratten, aka @Unmarketing, from The Book of Business UnAwesome "Newsletters are a great way to stay in front of our market and position ourselves as experts, but only when done with respect."
If you sign me up for your email newsletter just because you just met me at a networking event and I will politely, but firmly let you know that is a boundary you should not cross. I may even point you to the CAN-SPAM Act: A Compliance Guide for Business. This does not mean I don't like you, or never want to support you/your company. It means I want you to respect my inbox.
This type of newsletter spam, to me, is a spray and pray approach that uses the "better to ask forgiveness than permission" mindset. This is NOT connecting with me, the recipient, in any meaningful way, especially if I didn't opt in. Again, just because you have a persons email address, doesn't mean that it's open season to sign them up for your newsletter, regardless of how awesome you think it is.
"Your entire goal of sending a newsletter to your audience is to have them open it, react to it and spread it. " – Scott Stratten
Okay, so you're wondering when I'm going to get off my soap box and share my little lesson in respecting the inbox.
Here you go!
I treat my business email like a do a private phone number.
Here's a tip : I use a separate email address for all newsletters I opt in for. This has really helped me cut down on the amount of time I spend on email per day.
A few good reads :
10 Rules to Reverse the Email Spiral
Show Inbox Mercy With Proper Email Etiquette
Thirty Quick Email Etiquette Tips
Join the discussion on Facebook : http://ow.ly/oJL1m
—
Do you have newsletter horror stories? Share them in the comments below. I'd love to know how you handled it.