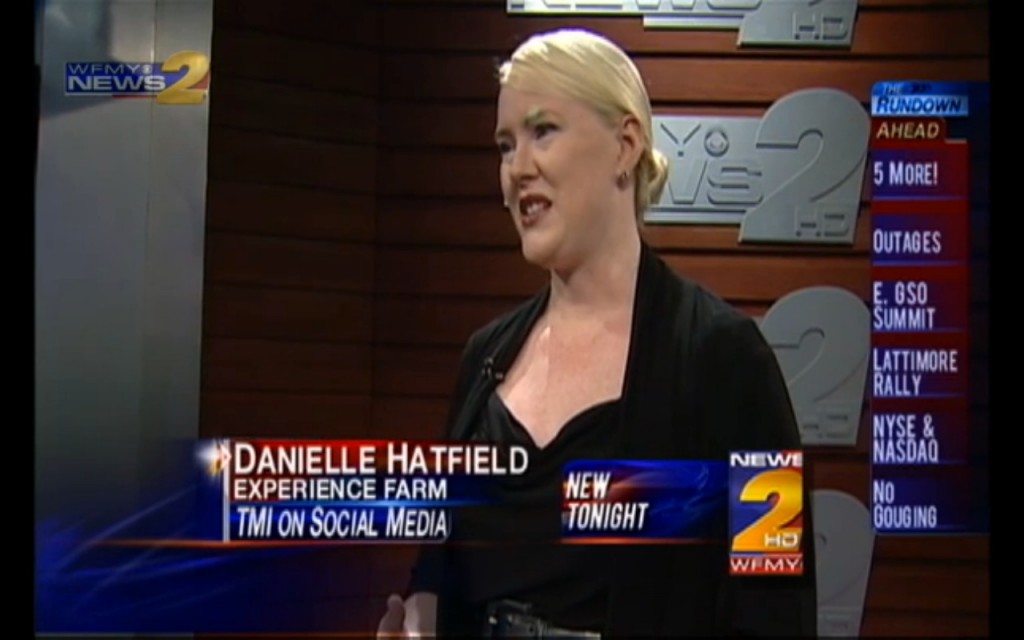 Watch the full interview with Lauren Melvin of WFMY News 2!
Recently I had a chance to chat with Lauren Melvin of WFMY News 2 about Sharing TMI via social media and some of the pitfalls and dangers that can come along with our exuberant and at times careless posting habits.
We're all guilty of it. Heck, I just posted this tweet this morning . . . was it TMI? Yes! Did you all really need to know that I could not get back to sleep or that I had the urge to hunt dust bunnies? No. But this is a fairly tame example of how we sometimes share TMI via our social networks.
The urge to vacuum is strong. Must. Resist. Waking. Husband.

— danielle hatfield (@dhatfield) November 7, 2012
 Just this morning, as I was catching up with news of the election results on Twitter, I found this tweet by Huffington Post about how sharing pictures of your ballot could be against the law. Talk about TMI getting you into trouble!
RT @huffingtonpost: Did you post your ballot on Instagram, Twitter or Facebook? It may have been illegal. huff.to/YEpIt8

— danielle hatfield (@dhatfield) November 7, 2012
To me, with the holidays approaching, there is a more sinister side to sharing TMI.
Entertaining friends and family brings it own joys, but as social checkins and photo sharing sites become more popular across many generations of users (experienced and not) . . . you may not realize that you, your family or friends are broadcasting where you live.
You heard me.
The combination of over sharing and not checking your privacy settings could pose a threat to your family's safety because of the new breed of burglars that count on you checking in every single place you go throughout the day and leaving your location information on as you snap that pic of your Christmas tree and presents. A few years ago I discovered Please Rob Me, which is a great site that is raising awareness of over sharing.
Watch my interview with Lauren and learn how you can check a few simple settings, lay a few ground rules as you prepare to entertain and learn how to curb that TMI impulse.
By the way – I found my sock.
—
Do you have a "no check in policy" at your home?
Do you ask your guests to turn off their "locations settings" before sharing that picture online?
In what ways do you think we as a society are sharing TMI? Has constantly sharing fostered more connectedness across social networks or added more noise?