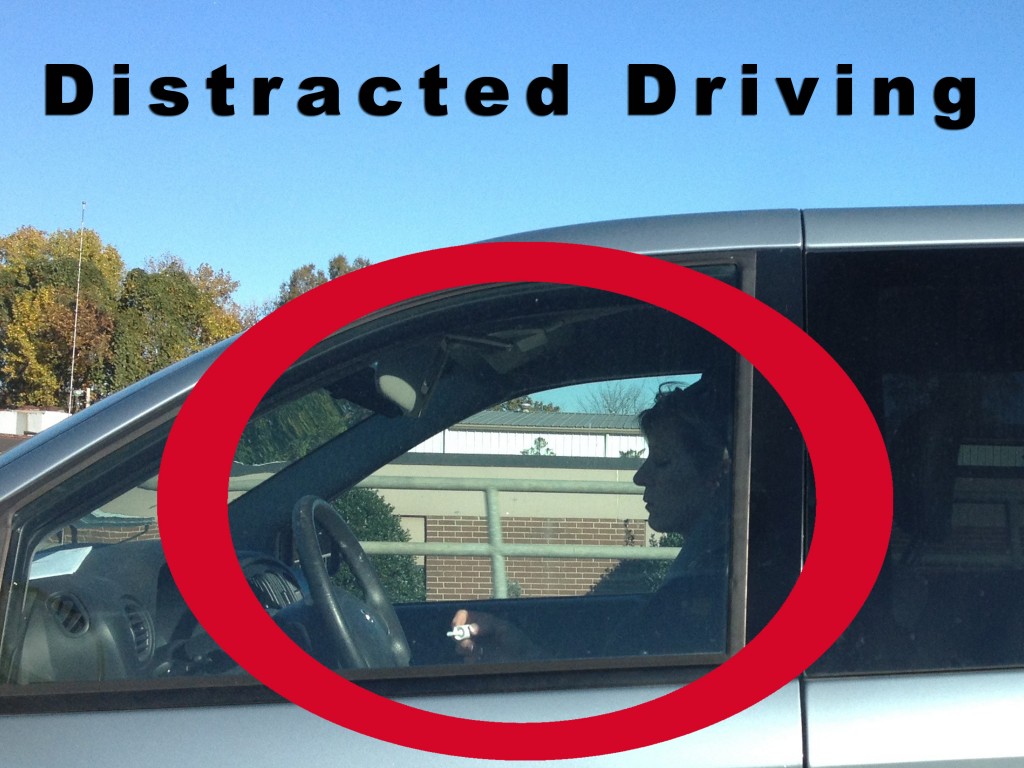 There is one thing that pisses me off like nobody's business . . . distracted drivers.
Recently, my husband and I were scared half to death when this woman swerved into our lane as she was putting on her mascara.
This woman drifted a foot into our lane because her makeup is more important than safety.ow.ly/i/16SsG

— danielle hatfield (@dhatfield) November 9, 2012
Let's take a closer look at what a split second dumb decision looks like shall we? I'm sure it seemed harmless enough to her to finish primping on the way to work, but this is an instance where looks COULD have killed (or injured).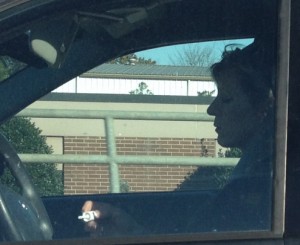 Thankfully for us there was a center turn lane that my husband could swerve into to avoid a collision.
The scary part about this experience is that the woman had no clue. She just kept on driving and swerving in her mobile makeup parlor before finally getting on the highway on ramp.
This type of behavior makes me want to drive around with a bull horn and a video camera. It's infuriating and scary as hell that this is happening on such a frequent basis, . . . but then we have been treating our cars like mobile home away from homes for a while now.
This video PSA about "don't makeup and drive" from the UK is brilliant and won gold at Cannes.

The next time you are are out driving (responsibly I hope) take notice of how many people are multitasking while driving.
The statistics of the dangers of our distractions are staggering when you look at them.
Here are a few statistics from distraction.gov
Text messaging creates a crash risk 23 times worse than driving while not distracted. (VTTI)
Driving while using a cell phone reduces the amount of brain activity associated with driving by 37%. (Carnegie Mellon)
Sending or receiving a text takes a driver's eyes from the road for an average of 4.6 seconds, the equivalent-at 55 mph-of driving the length of an entire football field, blind. (VTTI) >> (I can safely assume putting on makeup fits into this category)
One thing I would LOVE to see: a makeup company do is a PSA on makeup application/grooming and driving, the same way AT&T has done with their "It can wait" campaign that raises awareness for texting and driving. So how about it L'oreal? Revlon? Cover Girl? Any of you willing to offer your brand advocates a "crash" course on the dangers of putting makeup on while driving?
Bottom line . . .
Your makeup, text message, social update, cigarette or phone call is not worth my life and the lives of who ever is stupid enough to get in a vehicle with you or for those children who have no choice.
This is not a video game. There is no reset button.
YOUR SELFISH DISTRACTIONS CAN KILL.
What ever it is, . . . it can wait.
—
Have you had a close call with a distracted driver?
Have you been distracted while driving? Do you still take chances?
Have you changed your driving habits to become a safer driver?
What habits are you teaching your children about mobile safety?