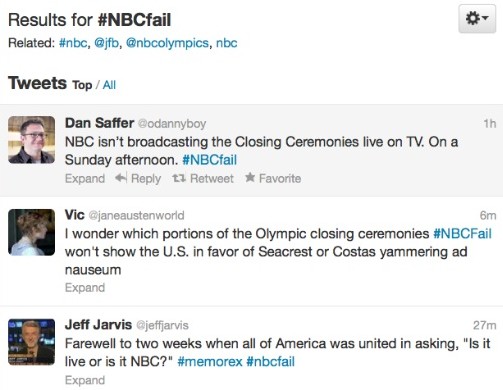 It's no secret that the running joke in much of the online community, throughout the entire 2012 Summer Olympic Games in London, was how badly NBC handled the media coverage.
Talk around the water cooler today is how NBC and the International Olympic Committee's efforts to portray a "connected" world thanks to social media was full of fits and starts, and to some non existent or down right laughable.
The excitement and unity that the Olympics brings to each country is not something that translates well through filtered access to the live streams.
LIVE access to the Olympics was 'restricted to pay TV subscribers who have access to MSNBC and CNBC as part of their TV bundle.'  I don't know about you, but I was shocked by this move. . . especially considering the growing movement of "cord cutters" and the evolution of how consumers (like me) expect to receive and share LIVE coverage with our social networks. As Janko Roettgers points out, there was an 'unlikely winner of the 2012 London Olympics . . . VPN providers that have been signing up lots of new users looking to access streams of the games in real time'
NBC failing to recognize the social world we live in is now a global discussion.
Maybe we all wouldn't have noticed just how awful NBC's coverage was had the Mars Curiosity feed not made it to earth in 10-15 minutes while it took 6 hours for NBC to broadcast what was going on in London.
One search of Twitter for #NBCfail and you begin to see just how irate many Americans were. We all have become so accustomed to the ease in which information is shared, we get a bit punchy when there are purposeful road blocks put in place.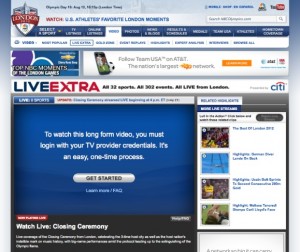 A competition many did not expect at the 2012 Olympics was NBC vs. NASA. Spoiler Alert! NASA won.
All joking aside, I asked myself 'What did I take away from my frustrations?' Ultimately, I found the good in NBC's botched coverage of the Summer Olympics and how this could teach us all a few lessons in business.
delayed broadcast schedule : When there is a live event, chat or you are writing that blog post – don't delay your content. Be present in the moment but understand that timing is everything in the online world.
online spoilers : DO share valuable content. Don't give away SO much information that your clients have no reason to hire you.
awkward commentary : When it comes to helping your clients reach their goals it's important to point out  inconsistencies in procedure or actions/items that may be blocking them and suggest possible alternative solutions that highlight their strengths and successes. Pointing out what's not working without offering a solution serves no purpose to either of you.
cumbersome ad-filled online experience : If your brand's online presence feels more like a 3 am infomercial, you could be doing more damage than good. How you represent your business to everyone you meet, both on and offline, is how people will remember your brand. Don't fill your conversations with so much advertising that your audience simply tunes you out or changes the channel.
sharing as soon as possible :  When you have valuable information you can share, a thank you note to write, a follow up phone call or friendly email reminder to send. . . don't wait! Make it a daily ritual to write down what you need to do/send and who you need to reach. By sharing as soon as possible you eliminate anything or anybody from falling through the cracks.
Want to hear a great discussion about NBC's Olympics Coverage and What Went Wrong? Take a look at this video from Mashable.
—
What did you learn from the controversy that NBC's coverage of the Olympics has created?