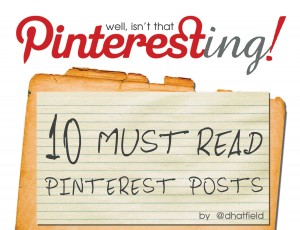 Many of us have have not been able to resist the visually stimulating lure of Pinterest.
I my self am no match for the plethora of "why didn't I think of that" DIY's, abundant food porn, refreshing fashion ensembles and design style inspiration.
Each of us use Pinterest in our own way and have our own story to tell about why we are so hooked. I admit that I turn to Pinterest for DIY inspiration. I love to bake, crochet, sew , repurpose and will freely admit that some of my most recent Pinterest inspired DIY's have not only improved my home but more importantly they have introduced me to a whole new world of bloggers that I might not have ever discovered. Personally I think that Pinterest is a refreshing vacation from the typical social network. If you use Pinterest you may enjoy my Top 10 Pinterest Boards.
Here are my 10 must read articles relating to Pinterest.
—
Have you read a great article about Pinterest lately? Share a link and why you enjoyed it.