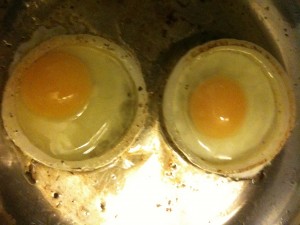 Y'all know by now that I LOVE finding and trying new recipes. This little passion has literally put the joy back into cooking for me.
I don't always make the recipes exactly the way they are, and I like that. I enjoy creating new family favorites and experimenting before we invite friends over or have a date night.
This recipe is really simple to make and is a quick breakfast that is also easy on the eyes.
Inspiration comes from the talented folks over at Apron Strings. I knew I had to try it when I found this recipe.
Ready to have some fun with food?
Time:
Start to finish no more than 15 minutes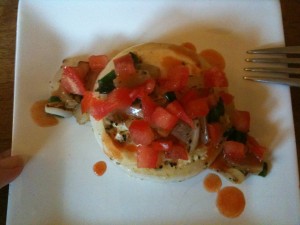 What you will need:
two medium eggs
two "rings" on a white or yellow onion
1/4 cup Onion diced
1/2 fresh medium tomato diced
1 scallion diced
olive oil or butter
Hot Sauce (I used our last bottle of the Hawthore Hotel Hotsauce we got on our trip to Salem in '09 for Halloween – it is SO GOOD!)
Directions: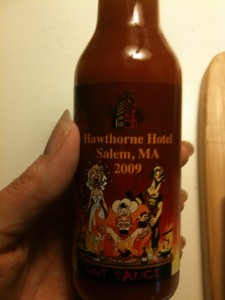 Over medium high heat add 1tbsp Olive Oil or Butter
Add the two onion rings and sear a few minutes on each side before adding an egg to the center of each one. (don't worry about the spill over just scoop it up and keep on cooking!)
Cook for a few minutes until you can flip them (carefully) if you want to
Turn onion ring eggs on simmer while you saute the scallion and diced onion in a separate pan
Plate onion ring eggs, top with sauteed scallion and diced onion and top with diced tomato.
Garnish with Savory Spice Shop Herbs de Provence and Hawthorne Hotsauce (one of my favorites!)
—
What recipes have inspired you lately? Share your favorite recipe!