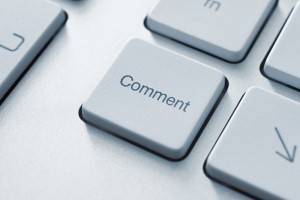 It's no secret that many, if not all, of the most heavily trafficked blogs have guidelines for commenters.
But what about you and I? Should we consider having guidelines about what we will and won't accept on our blog?
The reason I ask, is because of what I call 'comment vomit'. We all have experienced it. It's when a person leaves a comment on your blog only to link back to their own blog or website. These people are typically NOT interested in building real relationships and are 'poportunistic' or they only "pop" in to comment when they see an opportunity to link back, sell or somehow promote themselves.
Now, I don't know about you – but I think it's slimy. This type of behavior reminds me of snake oil salesmen who sit around smoke filled offices and cold call everyone in the phone book – they also show up at networking events and are the blackjack dealer of business cards. Blechkt.
So I went on a search to find 7 of the best articles that could help me understand what others are doing about this very real issue. I was looking for articles to inspire me to tactfully defend my blog from the self promotional graffiti artists and grow a real community of people who are interested in more that just being able to spray and pray their message.
Here are a few great examples of blog comment guidelines:
—
Do you have blog comment policy/guidelines?
Why did you create them and how have they helped improve your online community?
—-
@ipickpretty introduced me to @melaculberton 's "comment vomit" post and thought it may be another good one to add to the list: http://bit.ly/m9b1rZ
I agree 1000%. It's nice to know I'm not the only one who detests 'comment vomit'.  (Thanks Melissa!)