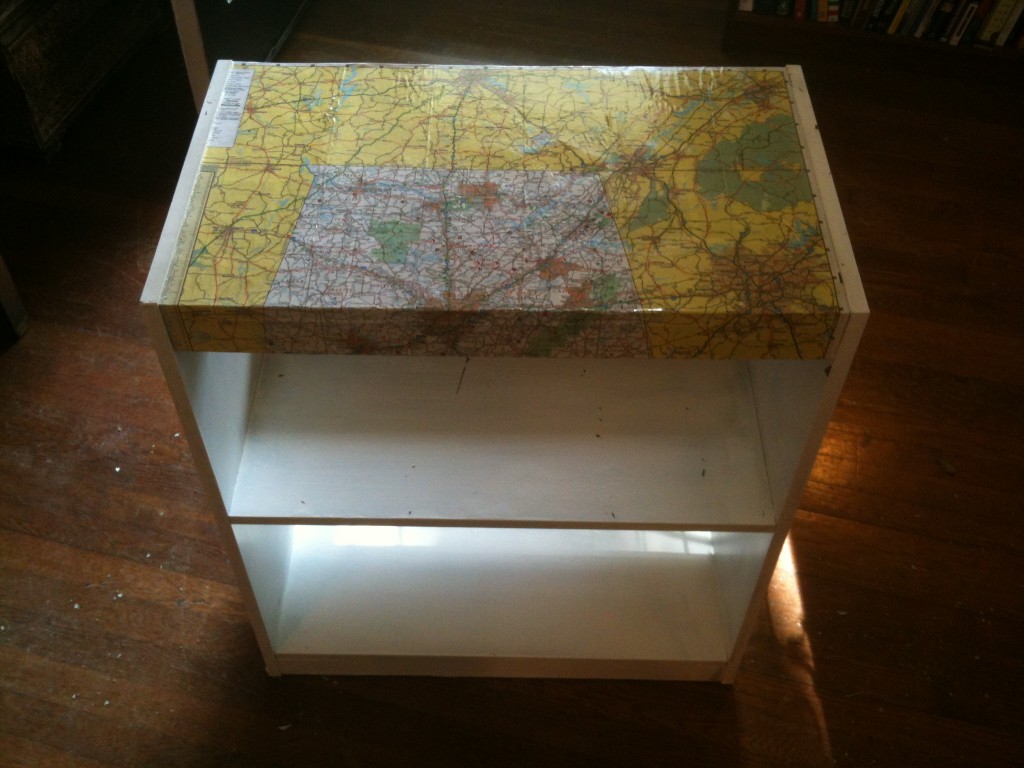 Re-purposing furniture with a map can bring a sense of adventure back to, what some would consider, a throwaway piece of furniture. Take this old shelf from my husband's bachelorhood days for example, I found it in the attic while I was looking for design elements for my Closet Office project. . . I hadn't told my husband yet but it was slated for Goodwill and on the way out the door when I had an idea.
We had an old map from our trip to New Orleans and a need for not only more shelf space for the library, but a side table that fit with our travel theme. Bonus on this project was a can of clear gloss spray paint I bought at Bricolage. I love that I had added so much meaning to this project by simply using what I have.
Time :
Approximately 3 hours
What you will need :
Old book shelf or side table
Ruler
Iron & Ironing Board
Paint brush
Map
Paint (optional)
Sanding block
Damp cloth
Container to mix glue in
gloss spray sealer
Directions :
Sand down the piece of furniture and wipe with a damp cloth (you just want to prep the surface not sand it down completely)
Carefully steam iron the map to remove any folds and set aside
Paint piece of furniture and let dry completely
Position map on area that you want to be covered and use ruler and pencil to mark your cuts – set aside
Mix 1/2 cup Elmer's Glue with 1/4 cup warm water in container (mix thoroughly)
Dip brush into glue mixture and surface of furniture that will be covered with map
Carefully place map on surface of furniture and press to remove all air bubbles.
Once map is in place, coat top with a layer of glue mixture and let dry completely
Once map is completely dry spray seal the top with a few coats of high gloss sealer
(optional) once piece is completely dry, sand away bits of paint to "rough up" and distress the piece of furniture.
—
What fun projects have you made using maps?