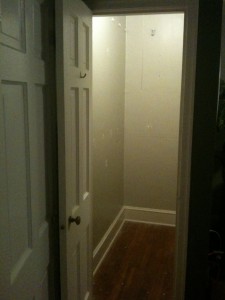 Our library closet has been on my radar as a potential quiet work space for quite some time.
For the last 3 years it has been the home of shoes and purses. . . that was until recently. I decided that having a private place to write blog posts, take a phone call or simply to research was more valuable to me than a mini fashion warehouse.
So, I decided to spend some time online and of course browsed the Pinterest search results for 'closet office'. . . Though there were many GREAT ideas here (I'll be reclaiming the hall closet and reorganizing it into my super awesome DIY/craft station next!) I still had a difficult time finding an "inspiration" closet that was as narrow and deep like ours.
It really presented a unique challenge for me, as I wanted this project to be a 'use what you have' DIY.
Going off to see what I had on hand to transform the space, I came across my Benjamin Moore Color Stories paint (perspective) that was sent to me some months back when they launched. (I have been dying to use it in a DIY for what seems like forever!) Thanks to Lucianna Samu and her book 'Paint Saves the Day', I am forever looking for new painting projects.
While I was rooting around in the attic, I also rediscovered my Gardner Glass antique mirror, purchased way long ago when I lived in New York. These two items, coupled with my husbands Great Grandmother's Sewing Machine, an old sewing chair and a spare frame . . . I knew I could pull off this project in an afternoon!
I painted the walls and the trim in the closet first, then began the process of "aging" my vintage mirror frame.
I'll work on a more detailed DIY for everyone but for now, here is a rough and dirty aged frame DIY.
I took and old candle and ran it along the edges of the frame and current paint job
I then dusted off the debris and added a coat of my Benjamin Moore Color Stories paint (perspective).
Once dry I took a hand sanding block and began sanding where the wax was. The paint easily came off!
Next I took my scraper and began running it along the frame, letting 49 years of paint and beautiful walnut wood show through in fits and starts.
I happened to have an empty walnut frame that fit perfectly around the antique frame of the mirror. It was the finishing touch and added depth I was looking for!
The most difficult part of this project was taking everything out of the closet and finding it a new home. . . this displacement offered me an opportunity to see all of the things I was "holding on to" but not using and pack up a few boxes to take to Goodwill. Admittedly, I have also been inspired by Leo Babauta's book The Power of Less.  (Each weekend I am devoting time to streamlining my life and eliminating clutter.)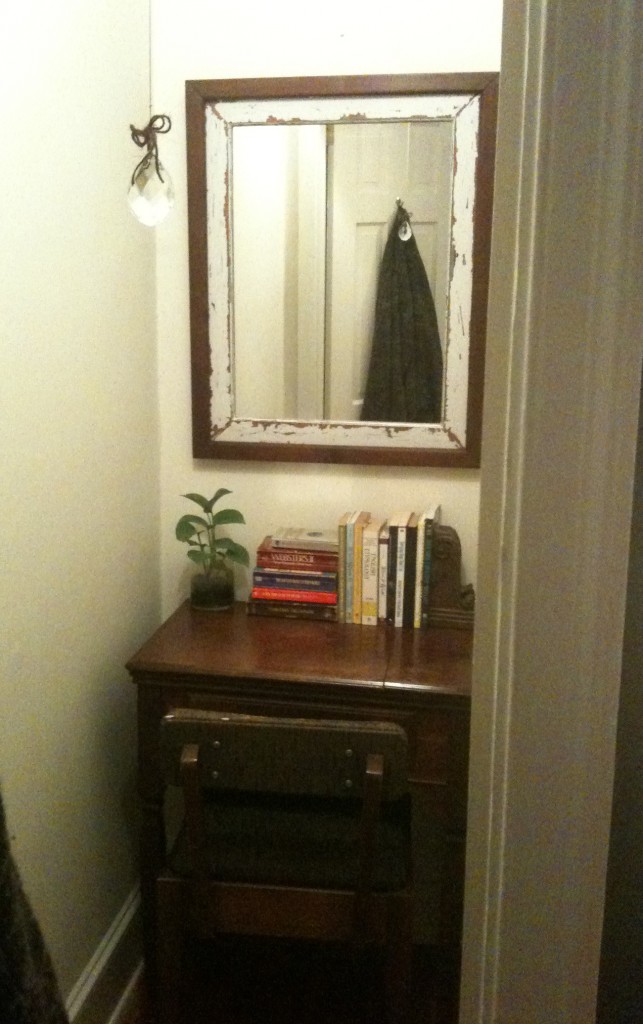 After the closet hardware was removed, the holes were patched and the baseboards cleaned – I have to say that I was literally  watching the paint dry. I simply couldn't wait for it to be finished!
Shelving is still on my 'to do' list to add at the very top of the space so that we still have additional storage, as well as adding a hanging light over the desk and recovering the vintage sewing chair that also has some seat storage. . . Other than that I think this project is complete and usable. Not bad for a Saturday afternoon!
One thing I learned after reading Jennifer Duchene's book Le Chic Cocoon is that we all need our private spaces – regardless of how small that space might be. And as she aptly points out we should never "wait for someday" to create that space.
It's the simple act of creating a small, private, usable room in the library that adds to our closet office's charm . . . being surrounded by antiques with special meaning gives me the 'perspective' I need to sit down and write. (having a place to hang my favorite Mr. Rogers Sweater is a bonus!)
—
Have you turned a home closet into an 'office'?
What creative ways do you use your home's layout to create unique environments?
—
Special thanks to :
Benjamin Moore for the free sample of Color Stories– LOVE that we can share our stories in color!
Lu Samu for the autographed copy of 'Paint Saves the Day' – always inspires me!

Dreamwalls Glass for sharing in my excitement that a mirror I had owned for 14 years came from them and helping me learn how to care for it!

Jennifer Duchene for her autographed copy of 'Le Chic Cocoon' and for teaching me to let go so that I can grow!