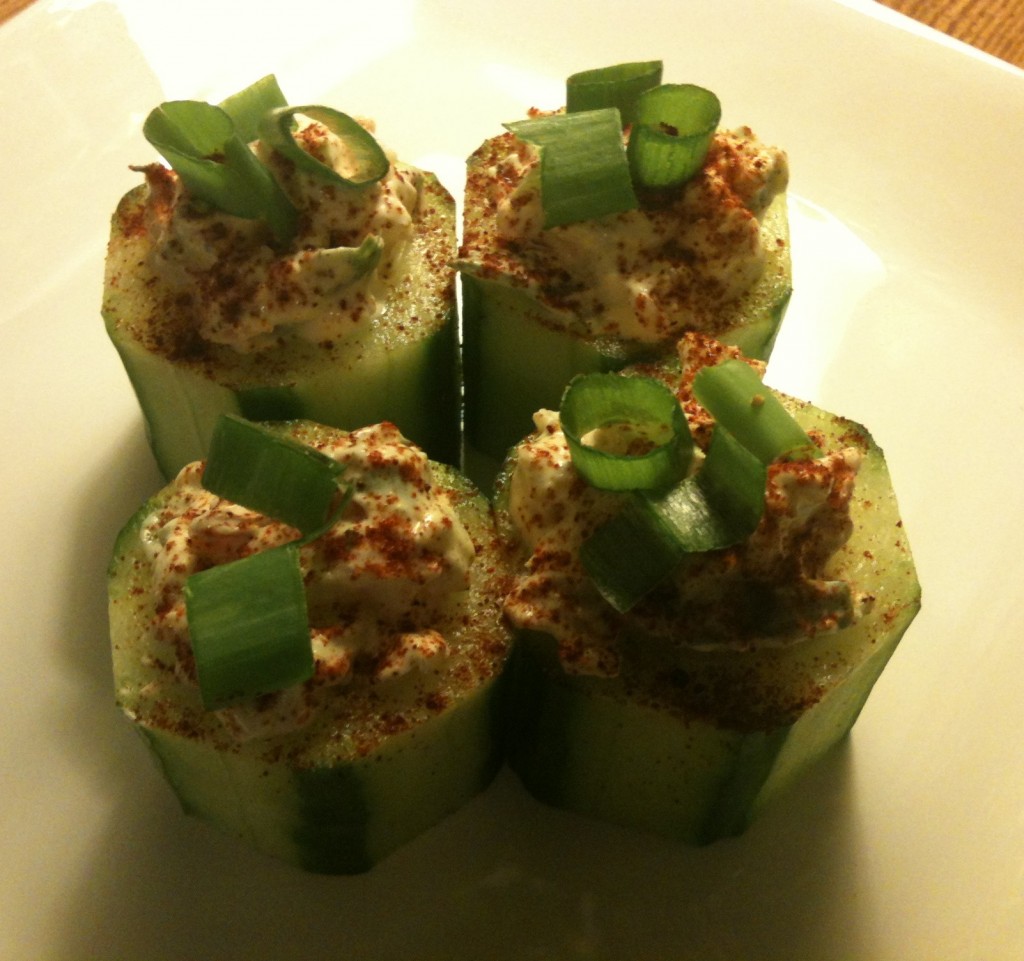 Recently I attended a Ladies Night Out pARTy as a guest of hostess and artist Tracey J. Marshall. Our session was "Poppies Galore," Acrylic and charcoal, with a watercolor feel. Sounds fun right?
All I needed to to was bring something to eat, something to drink and my creative spirit! And for those of you who know me, know that I LOVE to paint, but never make the time to unless it is a birthday, holiday or for my own home.  When Tracey invited me I simply could not resist!
Thankfully I remembered my DIY Food board at Pinterest and was easily inspired by these Cucumber Cups Stuffed with Spicy Crab by Domestic Fits. Now mine are no where near as pretty – but they are *definitely spicy.
I changed the original recipe to suit my taste and I recommend you do the same. If you don't like HOT – reduce the amount I have listed by half.
Time :
Start to finish about an hour
What you will need :
4 seedless cucumbers
1/2 cup sour cream
1 8oz. package of cream cheese, softened
1 cup crab meat, patted dry and diced (Vegetarian substitution : tofu)
2 tsp hot pepper sauce (I used my Hawthorne Hotel Hotsauce)
2 tsp yellow mustard
Salt and pepper to taste
1 tbsp Savory Spice Shop Herbes de Provence
1/4 cup minced green onion (save green tips as garnish)
Directions :
Peel cucumbers and cut off ends
Cut cucumbers into 8 sections (6 depending on size) making sure to average 3/4″ sections
With a melon baller, carefully scoop out center, making sure NOT to puncture bottom
Set cucumber "cups" aside on a large serving dish
Mix remainder ingredients thoroughly with a wire potato masher
Spoon mixture into cucumber "cups"
Garnish with paprika and chives
Serve with chilled Prosecco
—
What recipes have you discovered thanks to Pinterest?