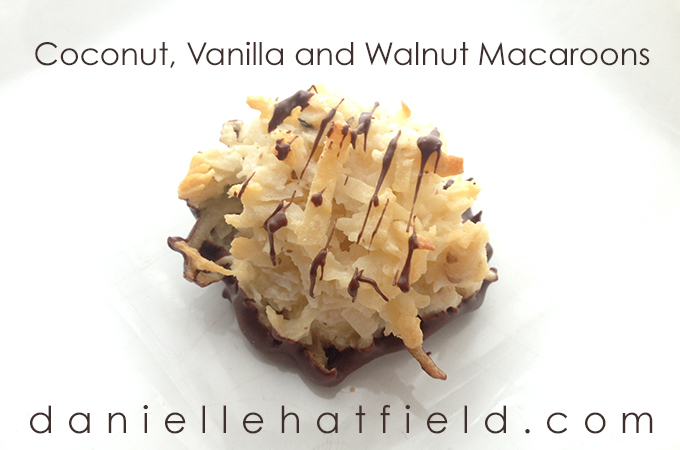 Last weekend I was looking for a dessert recipe that would be easy to make, delicious and also easy to share. All of the macaroon recipes I found online were great, but what I ended up making was a bit of a 'what you have in the cupboard' kind of recipe. I hope you enjoy it! Oh, and yes, macaroons and different from macarons.
Makes approximately 24 – 30 cookies
Ingredients:
3 cups sweetened, shredded coconut
1 can (14 oz) sweetened condensed milk
1 tsp. vanilla extract
1/4 cup ground walnuts (more if you mixture is too moist)
1/4 cup semi sweet chocolate (for dipping after baking)
Tools:
mixing bowl
cereal bowl
kid cheater (spatula)
wooden spoon
cookie sheet
microwave safe bowl
Silpat or parchment paper
Directions:
Before you get started grab a small cereal bowl and fill with water. This will come in VERY handy when you are ready to shape and place your macaroons on the cookie sheet! 
Preheat oven to 350
grease cookie sheet and set aside
grind walnuts (by hand or using an electric grinder)
in large mixing bowl mix together vanilla, coconut, sweetened condensed milk, walnuts
Using wet hands (to help prevent a sticky mess) shape the coconut mixture into small balls about 1.5 inches in diameter with about 1″ spacing
bake for 20 minutes or until golden brown
cool on wire rack
place chocolate in microwaveable bowl and microwave in intervals of 1-2 minutes, stirring until melted completely
place wax paper on cool cookie sheet
dip macaroons in chocolate and place chocolate side up until bottom is hardened
return to right side, reheat chocolate and using a spoon drizzle chocolate over the top on macaroons
share immediately or store in an air tight container
Note: Macaroons can stay fresh for about one week (+/-) in the refrigerator or you can store them in the freezer for up to 6 months.