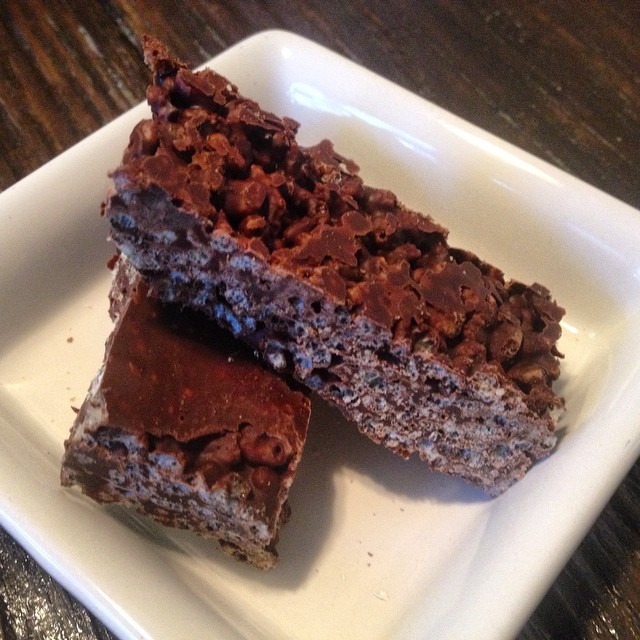 Y'all know by now that I love to hack recipes for a few reasons. 1. because I'd like to think I can make them better and 2. I know I can make them cheaper.
After my husband snuck in a few packages of Nestle Crunch bars into the shopping basket this week, I was determined to prove to him that homemade sweets were better. (Sorry Nestle!)
*Be Warned* that you can't eat too much of these crispity chocolate crack bars or you will be running around like Honey Boo Boo on Go-Go Juice. (we were awake WAY past our bed time last night!)
Ingredients: 
1 12 oz. package (2 cups) of semi-sweet chocolate chips
2 cups of Rice Krispies cereal
Tools:
large mixing bowl
wooden spoon
kid cheater (spatula for you folks who are too young to know what the hell that is)
medium sized rectangular dish/cookie sheet
wax paper
sharp knife
double boiler
Directions:
In a double boiler melt chocolate over med-high heat until all chips are melted
in a large mixing bowl add 2 cups Rice Krispies cereal
add melted chocolate to mixing bowl
stir until thoroughly mixed
in a flat rectangular dish add mixture and cover with wax paper
even out mixture and place in freezer for 30 minutes
once cool, flip container and carefully cut into bars
wrap bars and store in the freezer
That's it! Crazy easy right? Now, the only problem I have is that the chocolate melts in your hands. Any tips  you could share?
Default Gallery Type Template
This is the default gallery type template, located in:
/home/daniellehatfield/public_html/wp-content/plugins/nextgen-gallery/products/photocrati_nextgen/modules/nextgen_gallery_display/templates/index.php.
If you're seeing this, it's because the gallery type you selected has not provided a template of it's own.