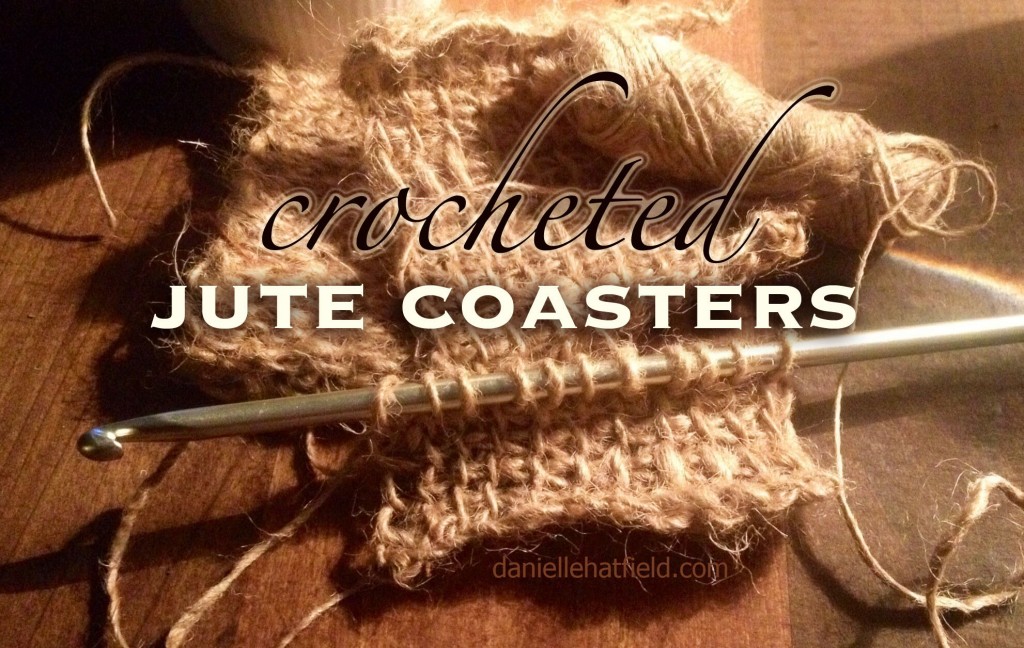 Since I finished my last blanket a while back, I've been trying out new materials to crochet with besides yarn – this week it just so happens that I picked up jute.  It's normally reserved for tying off presents and party invitations but, ever since I crocheted a jute coaster last year for my desk, I thought it would be a great idea to make a few more. These coasters are good to have handy for summer entertaining and can easily be joined to create a rug or for a backyard bean bag toss game. Since the jute I use comes with two natural and one green -the bean bag toss game is looking like a pretty good idea too!
Now, as much as I admire my friend Staci J. Shelton's knitting prowess, it just isn't my thing. It's not that I don't want to learn – it's just that I suddenly turn into a knitting version of thumb dancing Elaine Benes (from Seinfeld). I came to terms with the fact that I would never put my mother's knitting needles to good use a long time ago and am just fine that. She always held out hope for me but realized early on that I'm a crochet girl.
Truth be told, the afghan stitch is a favorite of mine because it looks like knitting. Actually, I think it really kind of looks like a hybrid of knitting and crocheting – it's known as the afghan stitch or the tunisian stitch. Calling it knitcheting or crocitting (okay maybe not that) would be more fun. Regardless what you want to call it, for those of you non knitters out there – this is a stitch you'll enjoy getting creative with. I can't wait to make a rug, scarf or blanket with this stitch. It will be fun to work with more materials too. . . t-shirt, denim, plastic bag and maybe even something made from plastic bottle twine!
Directions:
Yarn/Twine: 
Tool Bench Hardware Jute Twine, 3-roll Packs – Dollar Tree
Makes:
Each roll of Jute easily makes 4 – 3.5 x 3.5″ coasters (you may even have enough left over to wrap a gift or two!)
Hook:
10 US 6.0mm Susan Bates Afghan Hook (I picked mine up at JoAnn Fabric)
Stitch:
Afghan Stitch also know as the Tunisian Stitch.
Instructions for coaster: 
Ch 11, turn and draw a loop in each chain across until you have 11.
Yarn over and pull through first two loops. Repeat yarn over and pull through 2 until you have completed the row.
Turn and put hook in first loop (created from your first row) yarn over and pull through to create loop on hook. Repeat and continue to end of row.
Have a measuring tape or ruler handy to stop and tie off your jute after 3.5″
Optional: crochet a single stitch around entire coaster.
How to crochet using this stitch: 
If you've never tried this stitch, I think you'll enjoy creating all kinds of things. Here is a link to a very helpful video to get you going.
—
Be sure to share photos and a link to your post if you make something! I'd love to see it.