I am a DIYer. Always have been and always will be.
When it comes to gifts, I'm fairly easy to buy for. I like gifts that help be build, refinish or restore. I can guarantee that these 5 gifts are practical enough to impress with the indulgence that is sure to surprise. That's why these five gifts are perfect for your DIYer. *le hint, Dear Husband, who never reads my blog.

If you read this and follow him on Twitter or are friends with him on Facebook I'd really appreciate you sharing this with him real subtle like. Mmmkay?
Oh, and by the way, I said Gawr-On-Tee, while I was typing, just like Justin Wilson used to in the Ruffles Cajun Spice Chips Commercial from 1987. I wonder if they still make that flavor? Hhhhrm.
5 Gifts for Your DIYer
        1. Paint Saves the Day by Lucianna SamuSeriously love this book. I had the pleasure of meeting Lu a few years back and she was kind enough to send me her book. Thanks to Lucianna Samu and her book 'Paint Saves the Day', I am forever looking for new painting projects.
It has everything from how to create sophisticated stripes, adding a bit of bling underfoot and yes even faux bois! I dare say page 51 (Painted Chalkboard and Magnetic Niches) got me thinking of chalkboard paint on entire walls. (see my pinspiration below)
        2. Gift card to Goodwill (or other thrift shop near where you live)
You'll have to find your local store to purchase gift cards (couldn't find any info on Goodwill.org). I've been shopping at Goodwill, other thrift store and yard sales since I first moved out on my own. I still love the thrill of the hunt.
XTRA BROWNIE POINTS TIP : I recommend you put in with the gift card a sweet little note that is good for one full day of thrift shop skipping.
What's thrift shop skipping?
It's where YOU the gift giver offers to drive your DIYer to all the thrift stores/yard sales they can tolerate and together you spend all day meandering around discovering future DIY projects. TRUST me this goes a long way in the brownie points department. 
3. Udderly Smooth Vitamin E Body Cream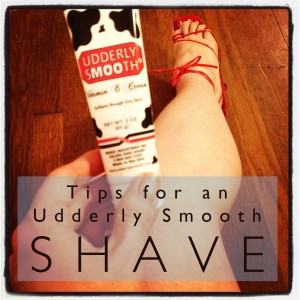 When you're DIYer is busy making your home beautiful or on a special project, Udderly Smooth Vitamin E Cream is one thing in the tool box they will be grateful is there. I admit to keeping one in my purse, one in the car and one on my vanity table in addition to my tool box. If you want to go all out, I know Linda over at Redex will be more than happy to help.
I reccomend buying the Udderly Smooth Home and Travel set (Original Udderly Smooth, lightly fragranced. 12 oz jar, 4 oz tube and 2 oz tube)
        4. Mani and Pedi Gift Card
I don't know anyone that would say no to this.
For those of you who are in the dark when it comes to "frou frou" gifts (as someone I know once called this) all you need to do is find out your DIYers favored nail salon pop in to see what kind of gift card packages they offer.
There are a few ways you can find this info out :
creepy : check their foursquare account
clever : ask their bestie or sibling
confrontational : just flat out ask them and save yourself the leg work
XTRA BROWNIE POINTS TIP : I recommend adding a hot stone body massage and/or hair cut, style and blow from their favored full service salon.
        5. Gift Card to Lowes
Does this really need any explanation?
Seriously, besides a thrift store, this is my favorite place to shop. My favorite DIY, so far, that I credit it's success to Lowes Home Improvement? Well, I could never have done this without my Gorilla Glue that I buy from Lowes. (thanks guys!)
What have you learned?
If you are ever in doubt of what to get me or your DIYer as a gift . . . book mark this page. Rinse and repeat.
—
Okay spill it. What gifts were a BIG success with your DIYer?
Did gift cards do the trick or did you do your research and invest in the tools on their wish list?
If you are a DIYer do you let people know what gifts would go a long way with you?