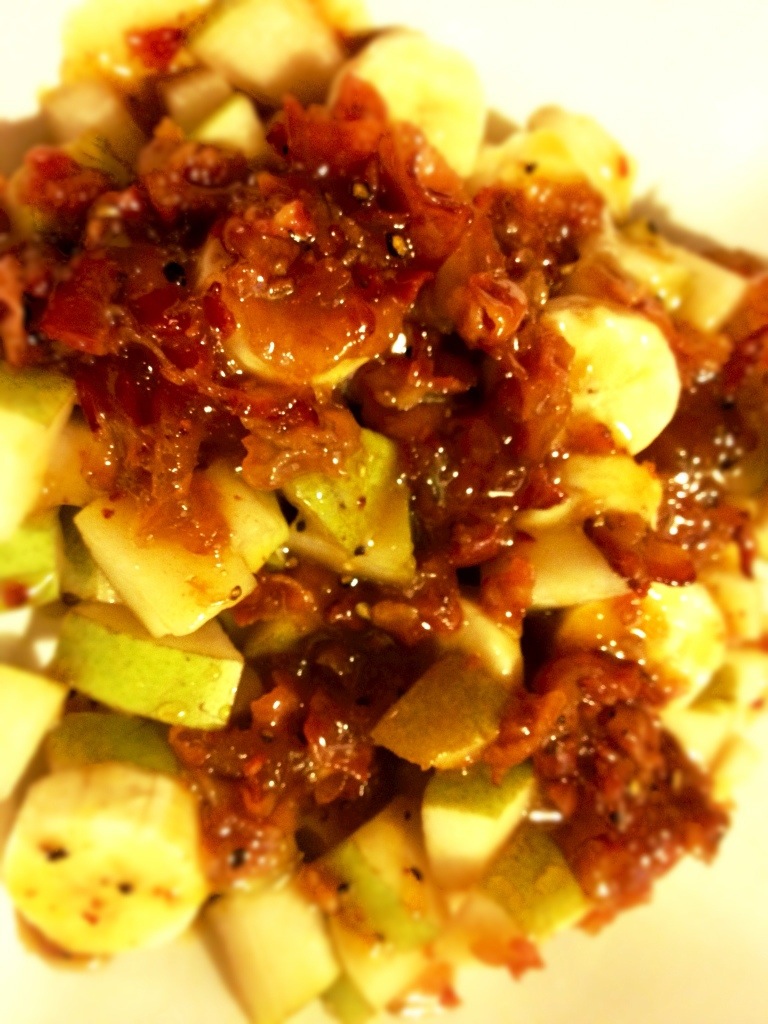 Banana & pear salad with apricot, Bourbon Barrel smoked pepper, bacon and butter dressing.
Pretty straight forward recipe that is easy to prepare and satisfies any meatetarian (a new word I heard from my friend Eddie Huffman). I was inspired by what I had on hand and a need to find a little summer something to serve with cheese and wine.
I'd say that you could easily double the banana and pear portions and even add a diced green apple and serve it as a chilled side dish. If you do garnish with fresh mint sprigs.
Ingredients:
1 large pear, deseeded and diced
1 large banana, peeled and sliced
2 tablespoons of Smuckers Apricot Preserves
2 tablespoons in salted butter
1/2 lb Bacon
1 tablespoon bacon grease
Pinch of Bourbon Barrel pepper
A few dashes of gumbo file
Directions:
Set prepared pear and banana aside.
Cook bacon over medium heat until crispy. Drain and dice.
Over high heat in small sauce pan combine all ingredients (except pear and banana) and stir rapidly until apricot preserves mixture thickens. Approximately 6-8 minutes.
DON'T STOP STIRRING until you remove it from heat and pour over banana & pear mixture.
Enjoy warm or chill for 30 min.
– – –
Shout out to fellow bacon lover and #MobileChat host Patrick Goodman of RedeApp for the Bourbon Barrel hookup. It was an honor to be first female guest on Mobile Chat!