Even though I love my tech free weekends, I wanted to share 6 iPhone apps that I simply can't live (or work) without and also include one that I recently discovered. Now, each of us have different needs and therefore different apps appeal to us. By no means is this meant to be the 'one and only' list for you to use. I'm discovering new apps all the time and I encourage you to ask friends, family and customers what apps they use every day, you may just discover one you can't live without!
I feel that our smart phones have become a necessary tool for business and certain apps allow us the mobile freedom to not only stay in touch, but to stay on task, inspired, organized and able to share our passions.
Here are the 7 apps that I think are best for business.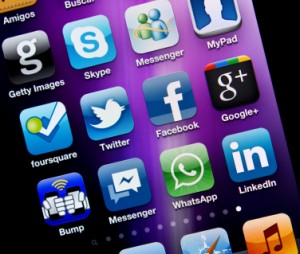 Expensify – this is a new app that I recently discovered for my family business. I could build a piñata the size of an elephant with all of the receipts we have to deal with and THAT is exactly why I was smitten with the seamless Quickbooks integration. Did you hear angels singing? I did.
Do it (Tomorrow) – I've been using this app for quite some time and love that I can cross things off of my to do list and those that I don't get today are waiting for me tomorrow! If you want something a bit more permanent there is also an Everyday app that is a virtual notebook for your life!
Simply Noise – Need a little white noise to insulate you from surrounding distractions so that you can concentrate? This app is for you! I listen to it on long road trips to soothe my savage side seat driving, while I'm writing a blog post, or when I get a bout of insomnia. Brown noise is my favorite as it reminds me of the deep roll of the ocean.
WordPress – Being able to update your WordPress website/blog from your mobile phone is a gift of time. I often am inspired to write post but just have the time to jot down a few quick notes and snap a picture. By starting and saving a draft I have been able to stay on target with my blogging goals and never miss an opportunity to share.
Hootsuite – Being able 'to listen, engage and measure all from one simple interface' is one reason I am a loyal Hootsuite user. The other is the vibrant and helpful community that has grown with them and the endless resources they provide their users.
Swivl – I have seen them grow from a garage gadget to an international sensation with Bloggers. But don't take my word for it . . . check out a growing list of user reviews and videos! I have enjoyed testing mine (Swivl is my tech sponsor) in preparation for my Bloggy Conference presentation Becoming the CEO of YOU! : Building your Personal Brand. My husband is even encouraging me to us it for some of my DIY projects!
Seth Godin – Okay, I'm pretty sure you're wondering what this guy is doing on my list. Truth be told, I love his insight and regular posts . . . not to mention the kick in the pants to think differently that I need every morning.
—
What apps do you use everyday for your business?
What apps do you recommend to your clients?