I love to crochet. Don't worry, I'm not one of those people who crochets barbie clothes or toilet seat covers . . . there are some things that should just be left alone.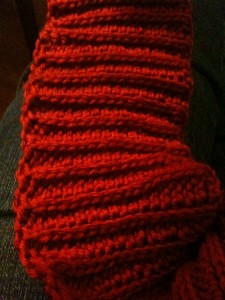 Recently I rediscovered a new stitch from The Knit Witch called a half double, but it wasn't until I found this post DIY by indie artist Jenn Ozkan that I was inspired to give it a go.
Jenn adds a twist to the half double that makes it look more like it was knitted. The crochet ribbing was so beautiful I have already made a baby blanket, this day scarf (literally only took a day to make) and am actually considering making an afghan for our bed.
Here are the basic stitch instructions :
Chain 17 (or however wide you want your scarf to be)
Yarn over your hook and skip two chains.
*Insert your hook in the 3rd stitch from the hook.
Yarn over hook again.
Pull your yarn through the stitch. (should be 3 yarn overs on your hook at this point)
Yarn over hook a final time.
Pull the yarn through all 3 loops on hook
Repeat until you are at the end of your row, chain two turn and repeat from step 3 making sure to insert your hook into the back "loop" created by the half double stitch vs. where you would normally insert your hook.
Ribbing will become apparent when you have a few rows under your belt and you can make the scarf as long as you like.
For the super awesome detailed DIY that inspired this project visit this post by indie artist Jenn Ozkan and watch this video by The Knit Witch.