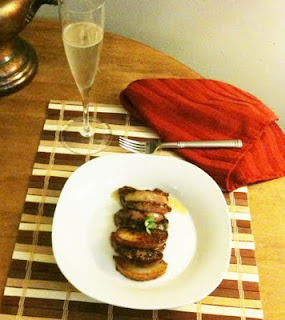 Weekends are my favorite. If for no other reason than I unplug and slow down to enjoy cooking.
One of my favorite meals is Sunday Brunch. . . whether it's fresh ground french press coffee in bed, homemade beignets, or my new favorite – fresh fried peaches.
Yep you heard me!
Fresh fried peaches! It's a very simple recipe that pairs beautifully with chilled Champagne.
:: My Southern Sunday Fried Peaches ::
1 whole peach cut into 12 slices (skin on)
2 Tablespoons of simple syrup (simple syrup recipe is 1 cup sugar & 1 cup water brought to a boil and stirred thoroughly until sugar is dissolved – then cooled completely. You can store remaining mix in refrigerator.)
3 Tablespoons of unsalted butter (cut into small pieces)
Fresh cracked pepper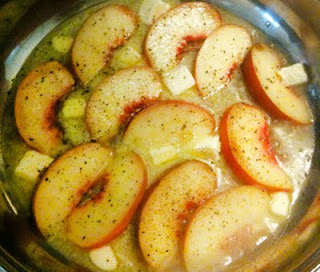 Place all 12 peach slices in large frying pan over high heat with simple syrup, and butter – adding fresh cracked pepper on top. Cook until all butter has melted and the peaches have released most of the juice.
Remove peaches from pan and place on plate while simple syrup, butter and peach juice cooks down to a thicker consistency.
Add peaches back to pan over
medium high heat until a caramel color crust forms on the bottom. Turn peaches and cook until crust forms on reverse side.
Once peaches are browned – remove from heat, spoon over remaining sauce and serve.
Garnish can be fresh mint or lime twist.
—-
What is your favorite brunch recipe made with fresh peaches?