I was a little late figuring out that Hootstuite templates feature (see video below) is gone for good (for free and pro users) and was replaced with a new, but not so improved, drafts feature on April 15th, 2015. Why OH why would they change this amazing feature? Let's just say that I found out the hard way, when looking to help a client access shared templates, that ALL THE TEMPLATES WERE GONE. Years of work creating these. Being able to share with team members. Being able to quickly select from the compose box, edit and auto schedule/send. GONE. And I'm not the only one unhappy about it. As you can see from the tweet below, other companies are listening to the templates/drafts conversations. Though I don't condone the "hey look at us" kind of tweets – this fast response by eClincher made me think about how many other companies are listening too.
@dhatfield Templates are gone forever. Might be time to make the switch to eClincher instead. Try our free trial: http://t.co/7jFim1tH3s — eClincher (@eClincher) April 27, 2015
On missing content – I tried using the new drafts feature and came up empty handed once again. So I reached out to Hootsuite Help and was instructed to switch to incognito mode and then try again. NOTHING. From the link they shared I was assured that I could restore them. "Update – Restore your Hootsuite templates as drafts! Select Publisher 
 in your dashboard, click Drafts, and then click Convert templates to drafts. This will restore all your templates to your Drafts folder." Now the Hootsuite team reassured me, and many many others, that their templates were not gone for good and that I could simply save them as drafts using the directions above. Well, let's just say that "convert" feature is still not there. I also learned that if I want to share drafts with team members I will have to do that externally from Hootsuite from now on. No. joke. So, I'm waiting, like so many others, for all of the content saved as templates to magically reappear (hopefully) and I now have to deal with saying goodbye to the fab/easy templates and the team collaboration that it once offered. A great point by a user in a comment thread was this:
I am assuming everyone got the same message as Jesse Cain. They said the fix is there now. However, and please someone tell me if I am just not "getting it," but the fix just temporarily gets your drafts back. Every Time you use one it is then deleted UNLESS you tick that box "save as draft' – however thats not how I use them at all. I want a template system which is what they used to have. I have portions of posts sitting there waiting to adjust and post.

Its like they are confusing "temporary draft system" with "permanent template system" or am I missing the real fix to store permanent templates?
As of this posting the "convert templates to drafts" is still is not available to me, though I do have a support ticket in and am waiting to see if all that hard work is lost for good. Regardless, I have to begin the laborious process of recreating these lost templates and begin finding another way to share these templates with teams that are learning to manage their own social media accounts. What is SO frustrating is that these templates were a great way to do a/b testing of messages and track with analytics. Now? POOF. Gone. To be fair, I have seen a few users who have had their templates restored, but it took days. And ya'll know waiting days for lost content is like waiting centuries in the world of social media.
The idea of spending HOURS rewriting/resaving ALL lost #templates in #Hootsuite today due to #drafts update makes me want to flip a nest. — danielle hatfield (@dhatfield) April 28, 2015
  On the lack of clear communication –  Y'all know I have been a diehard Hootsuite fan for a very very long time. Hell, I was even one of the first 140 volunteer Ambassadors worldwide in 37 countries and volunteered a TON of time to promote Hootsuite on my own dime. A perk of this volunteer position is that usually ambassadors beta test new features and are asked for "product feedback" before it goes live . . . but I don't know if that happened this go round. This latest Hootsuite update to "drafts" aka #templategate has really bothered me though. Why? 1. The idea of having to spend HOURS rewriting and resaving HUNDREDS of templates if they are not restored 2. That the templates feature was now being offered only to Enterprise clients. I am really shocked by the the lack of clear communication from Hootsuite that the template feature, as well as the helpful ability to share with teams and auto schedule, was simply dispatched to make room for the new and more cumbersome drafts feature. I think David explains this better in his recent post regarding the templates/drafts confusion and outrage many users have been feeling since the April 15th roll out.
#Hootsuite #templates and #drafts – and why the update REALLY matters. http://t.co/PL0hUl2BW6 pic.twitter.com/e7XJmZXxmt — David @ Impact Group (@ImpactGroupDT) April 16, 2015
I am not here to bash Hootsuite. Far from it.
I hope to give voice to my growing frustration and disbelief. I also hope to help all of the other folks that I have discovered that are just as flummoxed as I am.
Everything I have seen shows me that the usefulness of templates has been rolled back to Enterprise users only. I personally think if this is the reasoning for getting rid of templates feature for the rest of us – and they said as much – there wouldn't be as much confusion and gnashing of teeth amongst so many social media managers.
Read for the text below for yourself regarding Enterprise features and let me know what you think:
"Enterprise users should save drafts they want to retain in their Content Library."
They go on to share "The content library is a place for storing and organizing an Enterprise organization's approved assets, which can be lightweight images or message templates. An organization can have multiple libraries, which can be shared with selected teams within the organization. There is no limit to the amount of content that can be stored within a library. Only Admins or Team Admins can add, edit or delete assets in the content library."
"Message templates can be saved with links, URL parameters, images, message tags, location, targeting, privacy options and scheduling included." Here's the source for this text for Enterprise users.
What now?
I will sadly say that the company that I once fell in love with and that I helped "one hug at a time" has definitely disappointed me with how they have handled this change, the ongoing outpouring of frustrations and the user feedback.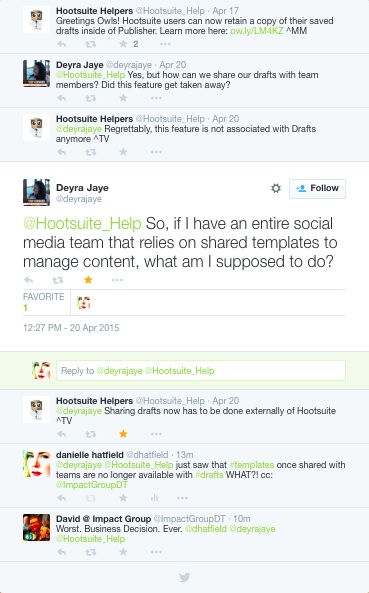 For those of you, like me, who don't want to give up on Hootsuite just yet – I encourage you to start a support ticket if, like me, all of your templates are gone. You can also take to Facebook, Twitter, Google+ and use the hashtag #bringbacktemplates (hey it might work!). Don't forget that you can go here to voice your concern over the loss of this once incredibly useful feature and submit a request to bring back templates. Again, no promises – but it seems as though there are a ton of folks who had countless hours work and vital content deleted during an "upgrade".
—
The best comment in the forum on templates disappearing: "they should just reinstate Templates and keep it separate from Drafts" YES! I agree with this suggestion. Let's hope it's heard.
—
Now, for those of you who are actively looking for alternative social media management tools after learning that templates will currently not be reinstated to the masses – here are some options and information I have collected. I do hope they help you.
In all of my research over the last 24 hours I have noticed quite a bit of folks frustrated with not knowing how to cancel their HootSuite account. This is the walk through via their help center:
Alternative Social Media Management Tools:
Oktopost: Social Media Management for B2B Marketing
Additional reading you may find helpful:
11 Best Social Media Management Tools
Top 10 Tools For Managing Your Social Media Accounts
16 Tools Every Social Media Manager Should Use
Favorite Social Media Management Tools for Small Business
5 Top Social Media Dashboard Tools to Manage Your Social Accounts
Report: Which Social Media Management Platforms Are Businesses Using?
What are your thoughts on the new "drafts" feature and the loss of the templates and the ability to easily share with teams?
—–
UPDATE 6.13.15: I caught this question on help.hootsuite.com that so many of us have had regarding the elimination of templates in Hootsuite and the change to the new drafts feature: link to original question
"How Do I Create a Draft Post for a Team Member to Review
I have Hootsuite Pro with one other team member. How can I create a draft post so the other team member can review it before the message is posted to our timeline?"
The Hootsuite response helps me realize that this change is to make "conversations" more relevant vs. listening to HOW the users were using templates and why we want it back. 
"Hey there,
Thank you for taking the time to write in with your concerns on our Community Forum, my name is Jocelyne and I am happy to assist you today.
As it turns out all drafts are private and cannot be shared in organizations, with teams, or team members. In lieu of drafts, we suggest using the new conversations feature which allows you and your team members to collaborate on content before it's posted! For more information please see here:
https://help.hootsuite.com/entries/21994036-Managing-Conversations#start
If you have any other questions please reach out to us on Twitter @Hootsuite_Help!
Best,
Jocelyne | Customer Advocate | hootsuite.com/help"
I don't know about you – but this is not the solution I want. Being able to easily share templates with team members was a valuable asset and a reason to pay for PRO. Without it – I can tell you I am disappointed that a brand that always listened to it's users is turning a deaf ear to the many that continue to express their disappointment in the change to templates and team collaboration. I myself am sadly left wanting, and looking for other alternatives so that I can easily share templates with teammates IN DASHBOARD, not using a spreadsheet.
I still hope that Hootsuite will listen to the many users who depended on templates and the team collaboration it offered and bring it back.
——
UPDATE 5.7.15: David shared that TweetSuite has added a templates feature for free. It seems that since Hootsuite has no plans on bringing this useful feature back – other companies are stepping up and more importantly listening to the conversations going on regarding this feature.
Hey, @dhatfield – remember I mentioned @tweet_suite? Go and check it out – they've just added a template feature – and it's FREE! #hootsuite

— David @ Impact Group (@ImpactGroupDT) May 5, 2015
Save your tweets as templates and use them later. It's now possible!

— TweetSuite (@tweet_suite) May 1, 2015
I asked Hootsuite Help today if they planned on restoring templates feature and having it separate from the new "drafts" and they said no and for me to offer my 2 cents in the feedback forum. . . I found a few and may be adding more as I find them.
Move Draft Templates back to the Compose Message Box
Go back to the previous draft menus and templates
  —–