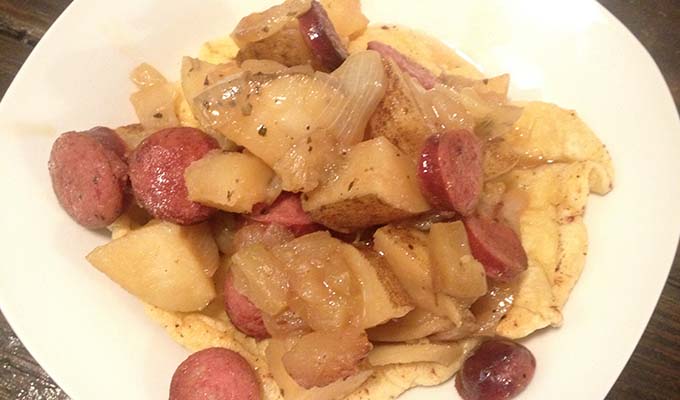 Recently I came across this amazing recipe for Slow Cooker Apple Sausage in Onion Gravy by Erren's Kitchen. I am not going to lie that I was intimidated to try this because I had never made Yorkshire Pudding before. Hell, I didn't even know what it was!
After reading Erren's post, I simply could not resist at least giving it my best George Washington try. My husband reminded me that it is similar to the Swedish Sailors Stew that we both love and that I should give it a try – even if I didn't have all the right ingredients or Yorkshire Pudding skills.  So here you have it. . . The Colonies version of Apple Sausage in Onion Gravy.
Time:
Prep approx. 30 minutes
Bake time 2 hours
What you will need:
1 Pabst Blue Ribbon beer (No eye rolling – try it. It's great to cook with.)
8 potatoes
dash of basil
salt and pepper to taste
1 Hillshire Farm smoked sausage link (14. oz.)
2 tsp molasses
1/8 cup sugar
4 medium yellow onions
3 bay leaves
2 green apples
2 tsp olive oil
Directions: 
preheat over to 375
wash potatoes and apples
peel apples and cut into 1/2 inch chunks – set aside in lemon water bath
cut potatoes into 1 inch cubes and place into deep baking dish, cover with dash of basil evenly across the pan.
cut onions into 1 inch cubes and place over medium high heat with about 1tbs of olive oil. Keep onions moving to brown. Once brown, slowly add 1 cup PBR and cook until reduced to a gravy. Remove from heat and pour over potatoes.
drain apples and place into frying pan. add 1 tbs olive oil to the pan and sautee apples over medium high heat. Slowly add 2 tsp molasses and the remaining PBR in bottle 1.
cut and dice sausage into 1/2 pieces. Place in pan with apples. Cook until gravy is reduced and sausage is browned a bit.
add sausage and apple mixture over potatoes
open bottle 2 of PBR and pour over your dish.
tuck 3 bay leaves into side of dish. Cover with aluminum foil and place in oven (I like to put a cookie sheet underneath just in case!)
cook at 375 for 2hrs.
Portion and serve in Yorkshire pudding. If you've never made it, I can tell you that even though they may not look as glorious as a Food Network photo – they will taste amazing. (see mine?!)
Default Gallery Type Template
This is the default gallery type template, located in:
/home/daniellehatfield/public_html/wp-content/plugins/nextgen-gallery/products/photocrati_nextgen/modules/nextgen_gallery_display/templates/index.php.
If you're seeing this, it's because the gallery type you selected has not provided a template of it's own.