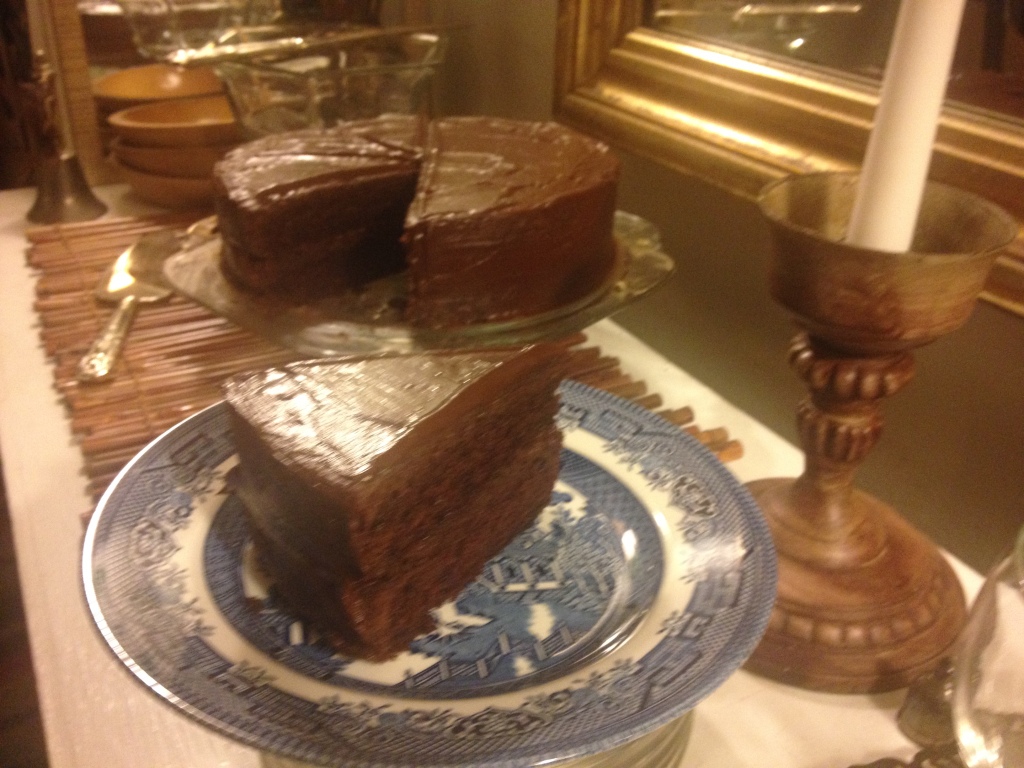 Right before Thanksgiving I was thinking about favorite recipes. The holidays are a time to make favorite family recipes that are usually only enjoyed once a year. . . somehow they just taste better don't they?
Now, as much as I love making the traditional dessert dishes, I am always open to bake up a few unconventional favorites and investigate new recipes.
Soooo I put out a call for recipes on Twitter for amazing Chocolate cake recipes (I have always completely failed in the task of making the perfect cake) and had some great suggestions. If you have one you'd like to share please tweet me!
If y'all have any favorite #chocolate #cake #recipes please share. I'm thinking of making one for Thanksgiving and need some inspiration.

— danielle hatfield (@dhatfield) November 20, 2014
Enter Chef Armando Brito from California. He's a Chef at Rick and Ann's Restaurant in Berkeley, California that offers up American Mediterranean Cuisine. You can follow him on twitter @Chef_Armando_B and see the fun and food at Rick and Ann's on Twitter @rickandanns on Facebook /RickandAnns. Chef Armando DMed me a divine recipe. This turned out to be the best damn cake I've ever made. Seriously. This recipe will be made more than once a year in our house!
Now, I debated what icing to make for this and ended up making a chocolate buttercream icing that is one of my husbands favorites. I tried this one from Yammie's Noshery because of it's two ingredient simplicity. Soooooo good… but then anything with butter usually is.



For now, the only photos of the completed cake are the potato quality photos you see here. I fully intend on making this cake again soon if for no other reason than to say I need to take better photos to replace these that I took while fending off a hungry husband at Thanksgiving dinner.
I hope you enjoy this recipe. When you make it be sure to give Chef Armando and I a tweet. I know I'd love to see!
Mocha Chocolate Cake (12 servings)
Ingredients:
2 cups all-purpose flour
2 cups white sugar
2/3 cup unsweetened cocoa powder
1/2 cup vegetable oil
2 eggs
1 cup buttermilk
2 teaspoons baking soda
1/2 teaspoon salt
1 teaspoon baking powder
1 tablespoon instant coffee powder
1 cup hot water
Directions:
Preheat oven to 350 degrees.
Measure flour, sugar, cocoa, oil, eggs, buttermilk, baking powder, soda, and salt into a mixing bowl.
Dissolve instant coffee in hot water and add to mixing bowl.
Beat at medium speed for 2 minutes until smooth; batter will be thin.
Pour into two prepared 9" cake pans. (I like to grease and dust with flour)
Bake on 350 for 30-35 minutes.
Cool in pans for 10 minutes once removed from oven then turn out onto rack to cool completely.
Once cool, even out cakes by cutting tops even (my husband loves this part!)
Place small amount of icing in center of cake stand and place first cake layer
Spread icing 1/4′ thick over top of first layer and careful place second cake layer
Spread icing on top of two cake layers then around edges
Default Gallery Type Template
This is the default gallery type template, located in:
/home/daniellehatfield/public_html/wp-content/plugins/nextgen-gallery/products/photocrati_nextgen/modules/nextgen_gallery_display/templates/index.php.
If you're seeing this, it's because the gallery type you selected has not provided a template of it's own.