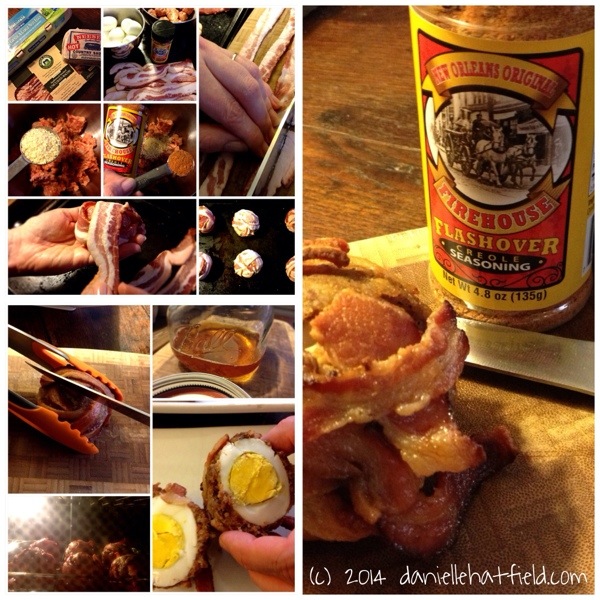 A few weeks ago, I stumbled across this food porn on imgur.
Today, I can proudly say that I tried it and created a new recipe along the way. I called these flaming scotch egg because of the HOT Neese's Sausage and Flashover seasoning. Be warned it's spicy!
Makes : 6 flaming scotch eggs
Time :prep, 20 minutes
cook, +/- 45 min
Ingredients :
6 soft boiled eggs
1 package of Neese's HOT Sausage (if you want thicker layering use 2 packages)
1 tsp. of Robert Medina's Firehouse Flashover Creole Seasoning
1 tbsp. of dried onion
1 12oz. package of Niman Ranch Applewood Smoked uncured bacon (if you increase your sausage, increase your bacon as well)
Tools :
cookie sheet
medium mixing bowl
cooking pot
knife
cutting board
tongs
baking dish
Directions :
preheat oven to 400 degrees
in medium mixing bowl add sausage, dried onion, flashover seasoning and mix thoroughly. set aside.
soft boil eggs (I over cooked mine and this first batch was a bit dry) peel and clean eggs and let cool.
separate bacon strips and cut each slice in half length wise.
separate sausage mixture into 6 parts
mould sausage around each egg
wrap each sausage egg in bacon strips until you can't see exposed sausage and place on cookie sheet
cook for 20-35 minutes on 400 degrees (I checked on them almost every 5 minutes because I was worried about the grease smoking)
carefully remove eggs with tongs and place in clean baking dish
return to the oven for additional 15-25 minutes until bacon is crunchy
drain bacon grease from cookie sheet and set aside to use for other recipes. (like applewood smoked bacon dog treats!)
using tongs to hold the flaming scotch egg, cut in half.
serve with some fresh ground coffee (my favorite) and enjoy!