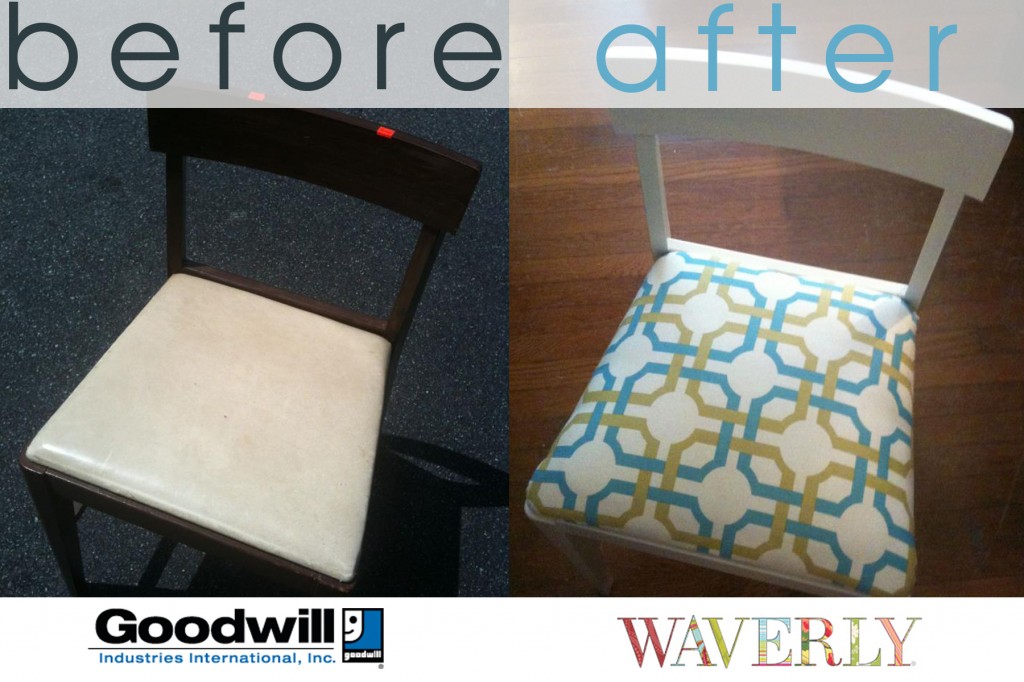 There is nothing that I love more than discovering a piece of furniture that is a diamond in the rough.
This $5 chair from my favorite local Triad Goodwill was no exception! Hands down one of my favorite places to hunt for my DIY projects is Goodwill. You just never know what you might find to refinish and when my gut tells me 'this is the project' . . . I always listen.
Once you find your project, the hardest but most rewarding part will be deciding on how to transform it. Thankfully, for this project, I remembered this Waverly print at my local JoAnn Fabric & Craft store that was perfect! I already had the paint, batting and all of my tools . . . so this project cost me only $17.00 including the fabric!
Be sure to check out all of the photo's in the gallery below . . . I snapped a few shots of the transformation with my phone.
Time:
This was literally an afternoon project that took me about 4 hours start to finish (including the pillow made from left over fabric!)
Materials:
To do just the chair you'll need –
screwdrivers
sand paper
staple gun
hammer
scissors
measuring tape
batting (an old chair cushion will do!)
fab fabric
paint
to finish and sew the matching pillow from the left over fabric you'll need –
sewing machine
cording (if you crochet you can make your own)
straight pins
pillow stuffing
Directions :
This chair was is great shape and needed no re gluing or fixing. This type of chair is ideal for low time investment projects. 
wipe down chair to remove dust with a dry cloth
remove seat
lightly sand down chair
paint chair (It took me 4 coats to get the coverage I wanted. I sped up the process by having a fan on the chair to dry the paint)
cut batting to fit chair cusion (if you want the seating extra cushy cut a slightly smaller piece of batting for the center)
cut fabric to fit seat cushion, being sure to leave at least 2 inches in consideration of the extra batting
place fabric print side down on work surface
center seat cushion and batting face down on fabric
I asked for help from my husband to apply even pressure on seat cushion while I stapled the fabric, but you can also use a heavy book or bowl full of rocks
let chair dry completely
attach seat cushion and enjoy!
—
What Goodwill "diamonds" have you found and refurbished? Share your drab to fab DIY project, I'd love to see the transformation you made.
What fabrics are you drawn to? Is it the color or print?