Recipe: Crispy Onion Wedge Salad with Roasted Heirloom Tomato Dressing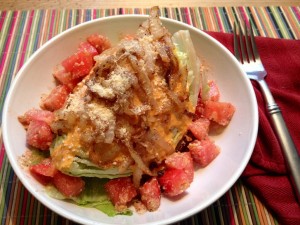 Author:
Danielle Hatfield
Creamy Roasted Tomato Dressing
1 medium onion
¼ head of iceberg lettuce
1 medium tomato
1½ tablespoon parmesan cheese
olive oil
salt and pepper
make your roasted tomato dressing first!
dice tomato adding 1 tablespoon of parmesan cheese with a bit of salt and pepper. Set aside.
slice onion in half and then slice lengthwise
saute onion over medium high heat until brown and crispy, drain and set aside.
place ¼ wedge of lettuce in bowl and add tomato mixture around base
add a bit of dressing then onion on top of wedge
add remaining parmesan cheese and serve!
Recipe by
Danielle Hatfield
at https://daniellehatfield.com/2014/07/recipe-crispy-onion-wedge-salad-with-roasted-heirloom-tomato-dressing/